so i roasted a rack of lamb today, after marinating it overnight. :)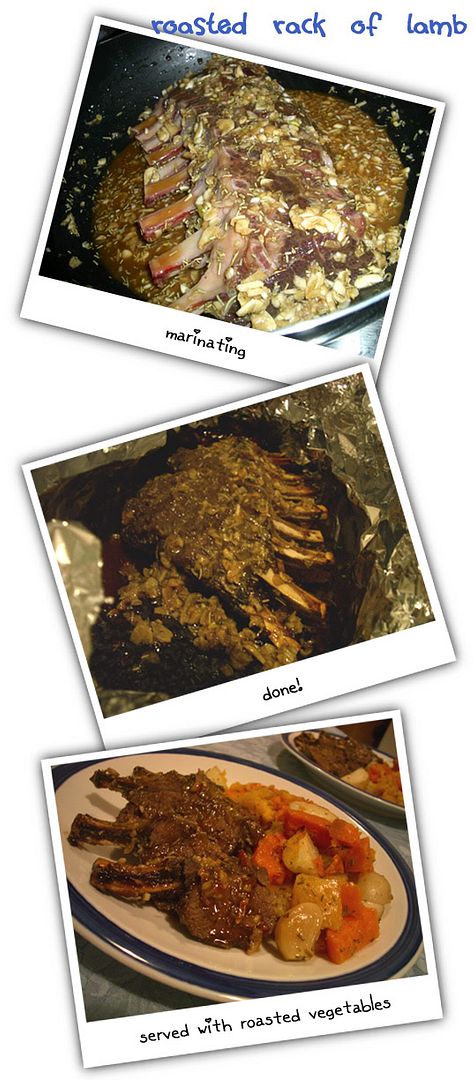 the bad thing about working with an oven you're not familiar with is, the temperature may not be what it seems. so doc's oven was probably too hot, 200 degrees celsius was probably really 220-250 degrees celsius, and the lamb got over-done. :s that was a little disappointing but luckily doc says it didn't turn out too tough. it was just kinda well-done, thanks to my habit of roasting things fully covered in foil.
but lamb should never be well-done! sigh.
the vegetables turned out really yummy though. i chopped pumpkin slices, one sweet potato, a handful of baby potatoes and peeled a bulb of garlic... covered them in canola oil, then tossed them with rosemary and salt. a few bits of butter were placed strategically around the top so they would melt down through different parts of the tray. because of temperature problems, i don't know what the temperature i roasted them at was, but it was between 150 degrees to 220 degrees, for about 40 minutes. :p
for those curious to know, marinade was a mixture of honey, teriyaki marinade (watery type, not paste-type), lots of chopped garlic, juice of two lemons, rosemary and flour. proportions to taste. :)
feelin':
full