one of several girls' nights out, a few fridays ago.

the evening kickstarted with shopping (friday is late-night shopping, which really only means shops open till normal hours like singapore's on any other night, instead of 6pm). wendy and i did some happy scouring of the streets, before may joined us in myers amongst the cosmetic counters. when our tummies began to rumble, we ambled up to ito for dinner.

ito is situated in my old neighbourhood. the neighbourhood i love so very much. :)





that raw beef dish originated from one of my favourite japanese eateries, chuji izakaya on lonsdale street. it's on the chuji menu as 'yukke'. ito has copied the same dish and named it 'gyu tataki'. same thing except with much less cucumber julienne strips than chuji's version. raw beef strips are thicker and chunkier than chuji's, but just as fresh and yummy. this is one of my favouritest foods in the world. :)

i must go back to chuji for a refresher meal soon. :)

anyways, on with the meal. the ramen was so-so... not bad but not good. a little on the bland side, and the noodles were a little soggy. the shishamo was not bad, but not quite crispy enough. the gyoza was also rather average - i guess i've been spoilt with too many excellent gyozas. :)

the unagi roll was fantastic though! it was hugeass... when it arrived at our table, we went, "woah!". eel pieces were really generous portions, and the avocado within the sushi rice was creamy and lovely. this was an excellent choice by may!

we all still had a little spare space in our tums, so a plate of tempura was shared. this was surprisingly very good too. i had a piece of pumpkin, which had a very light and crisp batter on the outside and melted in my mouth on the inside. i also munched on one of the large prawns... YUM. my skin didn't react to this one. hee.

for once, we didn't overeat. all of us felt just nicely full. good work babes!

we then adjourned to section 8 for drinkies and some music. section 8 is a really funky open-air bar, set up in an empty car-park space in a tiny little lane in chinatown. the bar is a container, and the seats are stacked up wooden crates.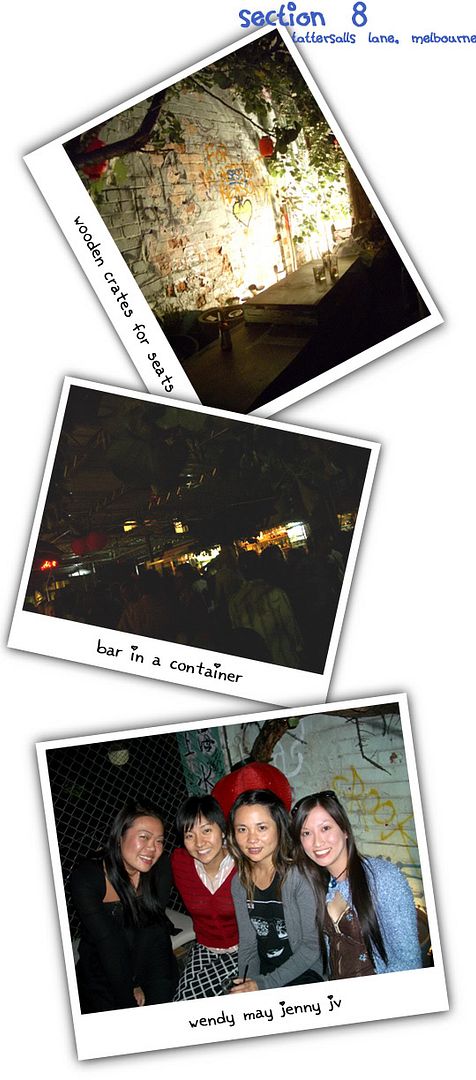 i had one drink, which tasted like 3 drinks in 1. the bourbon must have been free or something. either that or coca cola must have risen in cost. that was why i looked so pink! i had the most atrocious headache when i got home too...

it was worth it though, for the wonderful evening with the babes. lots of giggles and girltalk, and picking out eyecandy for one another! i don't see these babes often enough and i really should. :)