sebastian was only in town for 24 hours (such is the life of a pilot), so we crammed a few activities in. after dinner at the cellar bar, which was the previous entry, we took a walk down chinatown and popped into my old hangout, charlton's, for some british pool.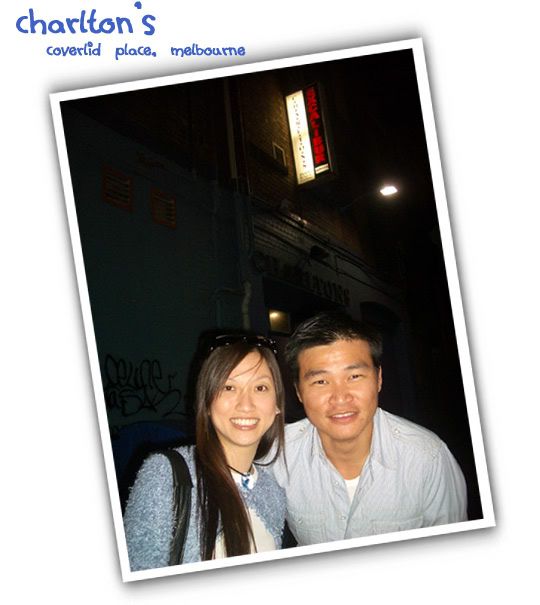 that is the infamous alley, one that holds many memories for many people. all sorts of strange happenings have taken place here. good things, bad things, messy things. :)

since i was showing a visitor around, i couldn't resist a tourist-photo opportunity. hee. the two young men whom we bothered to take the picture for us, were highly amused. i made sure they caught the charlton's signboard behind us.

an early night was (attempted to be) had, and it was rise and shine the next morning for a trip to the queen victoria market and a barbecued pork (char siew) lunch.





isn't it weird that i took seb for char siew when he lives in singapore? hehehe. well, this is seriously some kickass char siew! it beats all the char siew i've ever eaten in singapore. no kidding. i've never had such tender, succulent char siew in my life before i was brought to rose garden. the singapore versions are all too dry and too tough. these were juicy! i removed the fats though. :p

this is one thing i'm gonna miss very much when i leave.

one of the elderly ladies who run rose garden is never without a smile on her face. when she speaks to you, her face lights up with a genuine smile. i love it. i'd always try to place my order with her when i'm there. the world would be a better place if there are more of her around.

:)