breakfast with sean, the morning after the horrendous blackout.
so i'd just been on a rollercoaster of emotions, after a whole night of doing my head in thinking about how my ibook has been fried... and then managing to boot it up that very morning. it was rather surreal. almost like an out-of-body experience right there and then. i rang sean to tell him the good news, and we decided to carry on with breakfast plans.
i was really glad we didn't have to go to the computer service centre. :)
the weather was really strange. it reminded me of a spring morning, even though it was autumn. the air was chilly and the sun was shining brightly. cold fingers of a morning breeze ran through my hair, sending delicious chills down my spine. i thought it was rather nice. :) or maybe i was just emotional from the rollercoaster of events.
it was also really good to see an old friend. :)
the cafe we were intending to go to was way too popular - it was packed out with no empty table in sight. so, we crossed errol street and popped into a tiny cafe called verve. that turned out to be a better idea since it was much easier to ketchup in peace and quiet.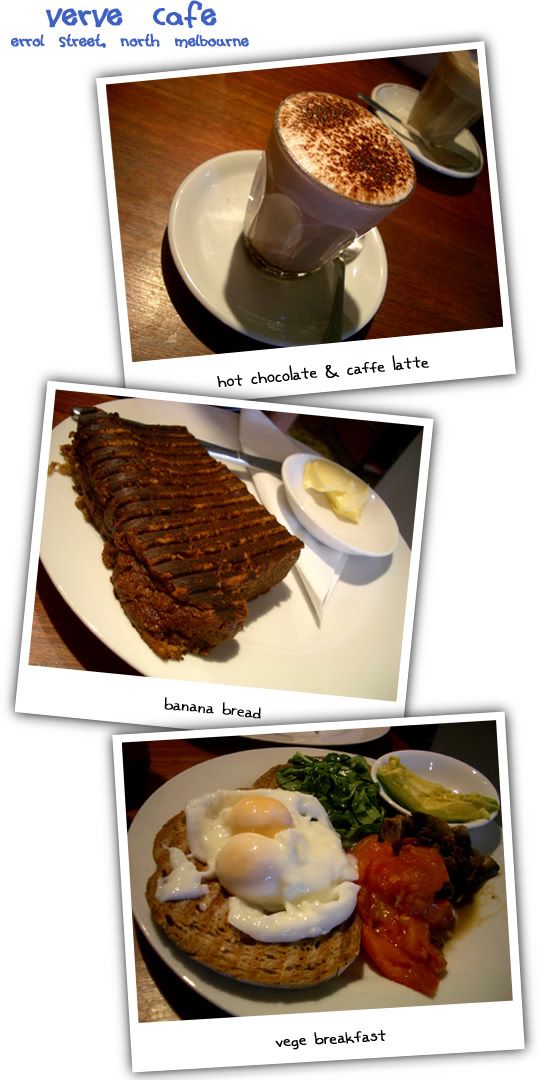 hot chocolate was just the thing to have on a cold morning. it was standard fare, not too sweet and just chocolatey enough, kinda like a lightly-sweetened milo. i forgot to steal some of sean's banana bread, so had to request for feedback from him afterwards - it was apparently quite good. my vege breakfast came unseasoned, with salt and pepper grinders to add as desired - good for people watching their sodium intake. the poached eggs were prettily perfectly round, although i would have preferred them to be slightly runny so i could smear them over everything. :) everything was very fresh and yummy, except that i didn't like the toasts very much - they were a little too dry and reminded me of the burnt bruschetta bread at the cellar bar. so i only managed to eat one slice. but i did like the fact that there was avocado. :)
it was a lovely morning of simple food and good conversation. i'd not seen sean for about 10 years prior to saturday, and we were definitely overdue for a ketchup. this is a friend i share a strange affinity with - we'd been running parallel lives since we were little 'uns running amok in primary school. we didn't know each other then, but we were at the same places at the same time. we'd probably played catching together before too, or grubbed about in the sandpits of our primary school. we might have spoken to each other, but didn't know each other's names. fast forward 10 years later, we ended up in the same archi class in 1994. at that point, we still didn't realise that we could have been standing next to each other when we were kiddos. then life got in the way as everyone chased their dreams. we somehow both ended up in melbourne, but didn't quite know we were both here. i'd even been to his old apartment because i knew his flatmate - but he wasn't there at the time. i was told that "sean lives here" but didn't register in my head that it was him. it was only a few years later, when i'd already left melbourne and we added each other on friendster, that we realised we went to the same primary school. further chats revealed uncanny coincidences.
so, it's been a long and winding journey for our friendship to get to where we are today. affinity is such a strange thing, is it not?
:)
feelin':
cold