heh... here it is at last. the long overdue report of my recent melbourne adventure. not really long enough (one week) to be considered an adventure but.
it was like taking a small piece out of one of my many recurring dreams of being back there and having it come to life for a brief but treasured time span. Mekong and Chuji Izakaya were top of a list of must-eat's, and QV was a sight to behold. how fantabulous that there's finally a decent supermarket in the goddamned city. if only my time of residence in bourke st stretched a little longer... like 10 years longer. ;)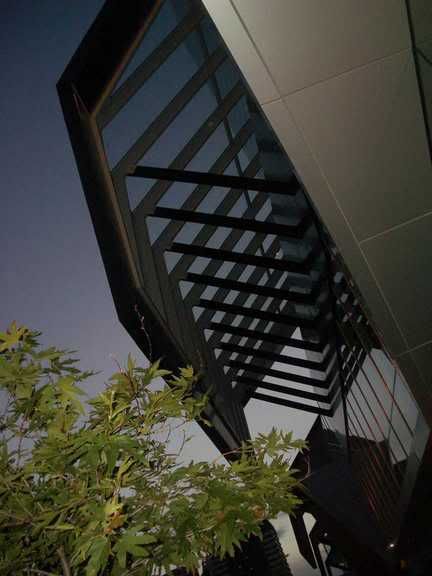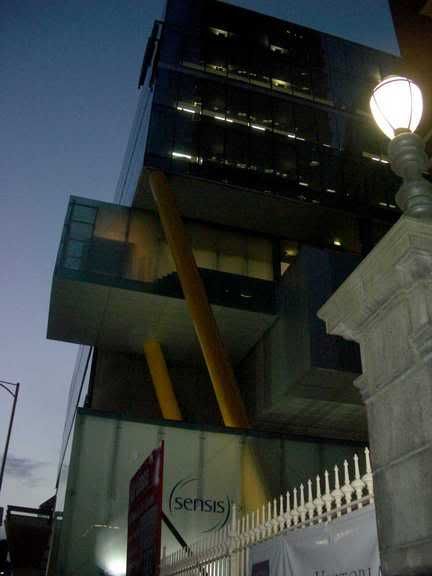 QV at dusk.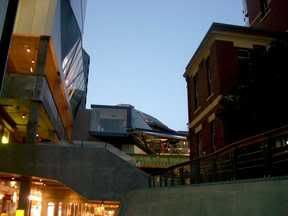 the old and the new in coexistence.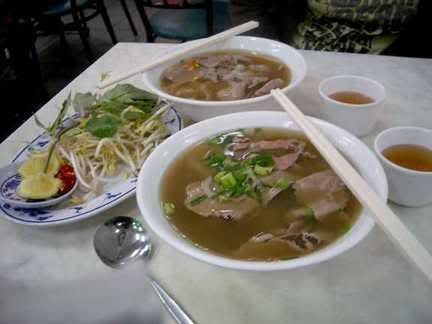 mekong!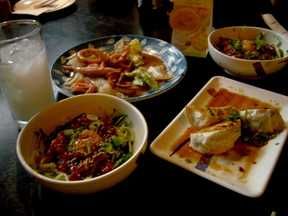 chuji!
the clang of trams and the crisp clear air. the bustle of people in the city streets. dark slate tiles on the cold pavement floors. the cross junction of bourke and swanston. fingers of the wind coursing through my hair. big airy spaces and high lofty ceilings. the colours of fitzroy. the chill of the night on tingly bare skin. an uncluttered skyline of gorgeous blue or dusky hue. i can go on forever... boy did it feel good to be back.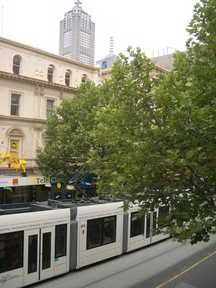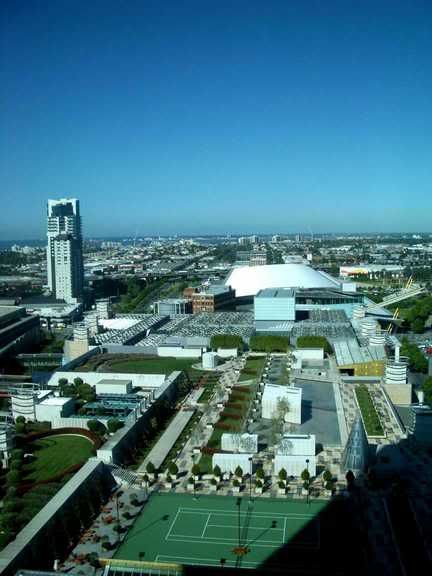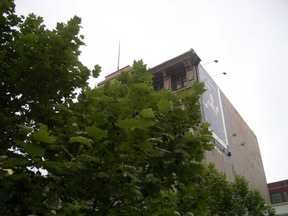 even managed to sneak a peek at my beloved old place on bourke st. :)
deep fried squid and scallops with spicy salt were consumed at Oriental Bistro, at that all too familiar window table. the lobby of the Paramount brought back a gush of indescribable memories, filled with a myriad of good and bad. caffe latte's served in those particular glasses, with a delicious layer of creamy foam. cooking up a hot meal in a familiar kitchen. the drag of a cigarrette through the cool thin air. sigh.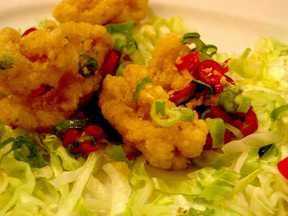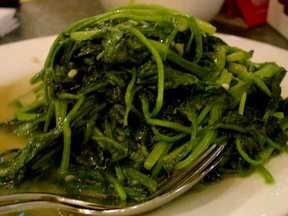 see, i'm rambling on again.
my exam day was ominous as can be. it fuckin hailed on the way to the venue, pelts raining down on the cab. when i got there, the hailstorm had turned into a rainstorm... me and a french girl were totally drenched running to the hall. the cold and shivering aside, my exam notes were confiscated by an evil-looking Ursula witch person who thought i was trying to cheat because i left the papers on my table. hope she didn't try to log in a report of any such assumption. 12 weeks before results are ready. about halfway there now. *fingers crossed*
miraculously caught up with bert and kel by sheer chance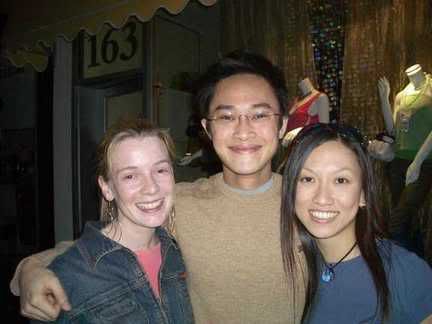 and finally met elle. :)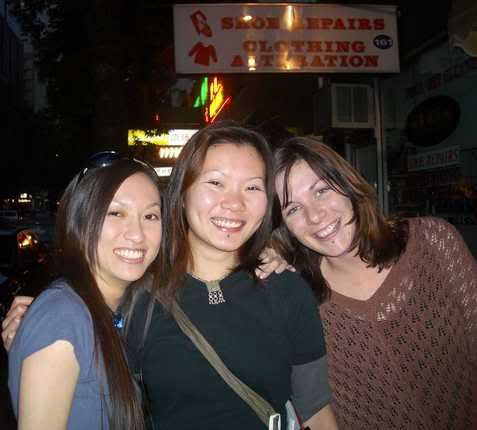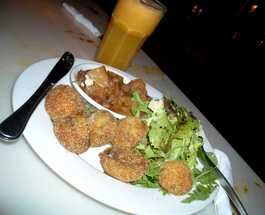 learnt many scandalous things (regarding our circle of techno peeps) from danish on a dark and stormy night, eating deep fried mushrooms at Vege Bar while raindrops danced in streams on the glass inches from our faces. absolutely shocking things have been happening! sat in the white james dodds van once again... the one vehicle which has been our main transport to many trashy missions and parties. :)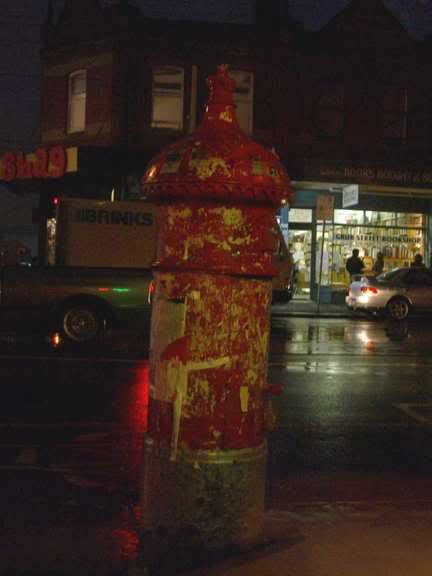 this weird thing was right in front of Vege Bar.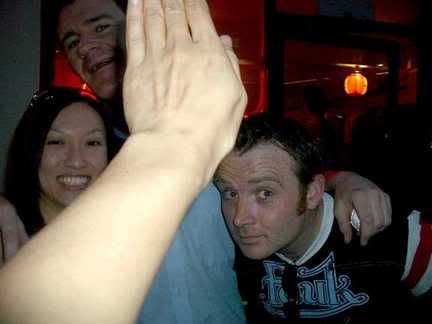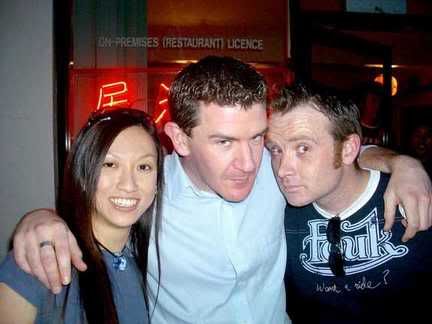 monkey bizness and penguin plans. didn't drink enough hoe's with the monkey! :(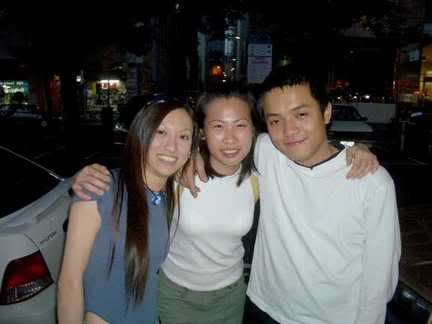 only managed to see penny and henry once... :(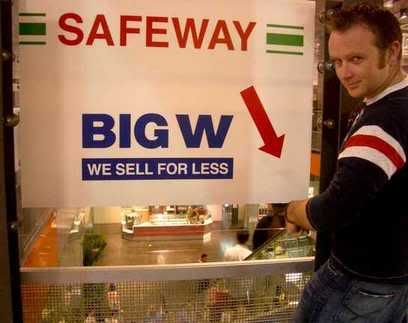 most glad to have hung out with the pnguin (who's in someone's pants...) - fanks for being the last one to grapple with my luggage and send me off. :) (no, pnguin is not a typo).
t'was also excellent to have spent a few precious moments with odd and craig, and their pet scorpion. :) drunken antics of freddy and craig will remain uncomfortably etched in my mind.
missed seeing warren and bec, gopi, jack and the boys... and ben and sera.. michael... and many more! :(
and jit... your dog is worse than ocha. manja madness.
much love and many thanks to jean, for re-providing the familiar roof over my head (and of course, being my phantom pick-up from the airport). ;) the brekkie of eggs, spam and rice was some of the best stuff i've eaten in awhile - simple soul food. :)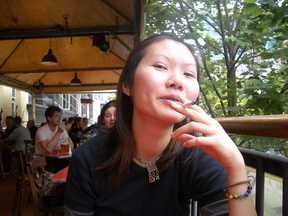 pottering around with you in the house or out and about anywhere is fun as always... see you real soon in sg!
much love and many thanks to val, for being my actual pick-up from the airport. :) one of the highlights of my entire visit was simply that long convo with you on the phone. :)
penny girl... i can only say SORRY! i wish i managed to change my flight... so wanted to see your home and your life. so many things to say, so very little time... LOVE YOU AND MISS YOU HEAPS!
am especially grateful to meat pie and his missus for the frantic mission the night before my flight...
it was wonderful to see everyone (the ones i did manage to see, at least). apologies to those i missed - i ran out of time. but i promise i'll be back again soon. very soon. :)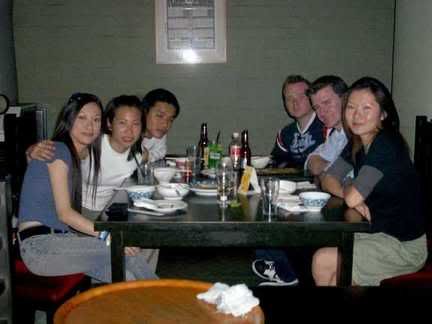 love y'all!
xxx
misc. pixx: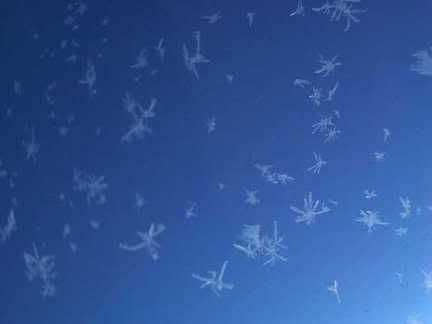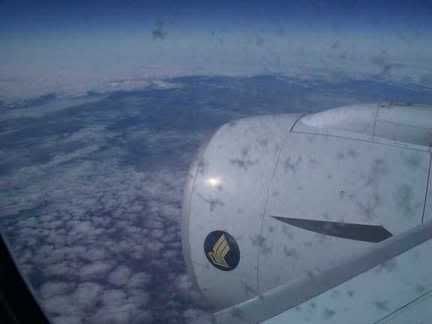 ima sucker for window seats.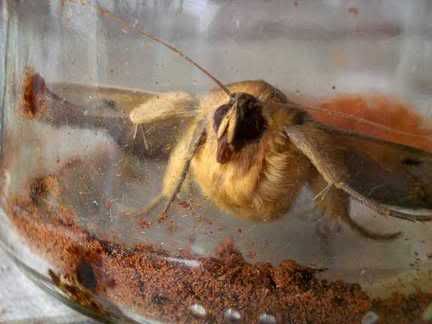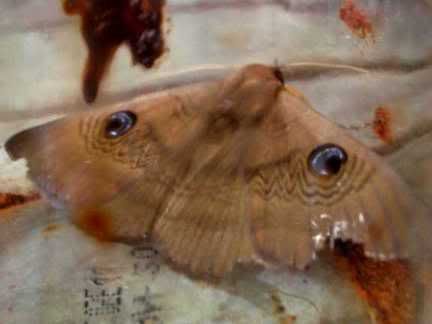 check out this bigass furry mothchicken aaron the pnguin caught in jean's bathroom!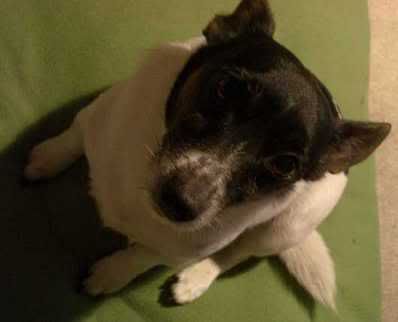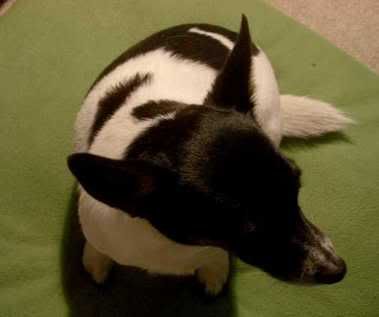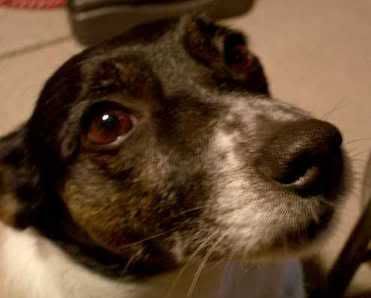 ocha! right as rain after his akita attack... as attention-seeking and loving as ever...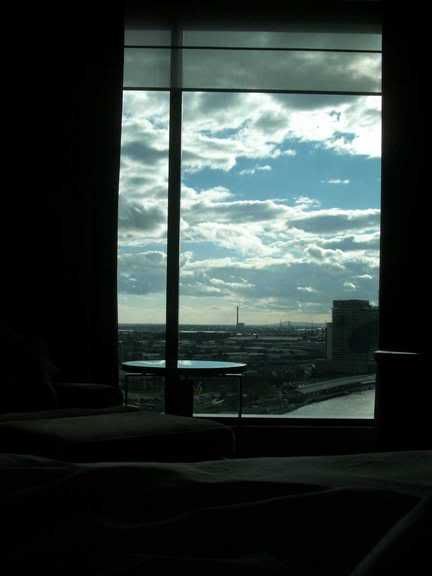 room with a view from crown...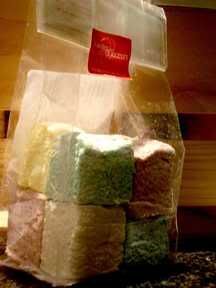 gourmet marshmallows! cost us an arm and a leg but it was worth it!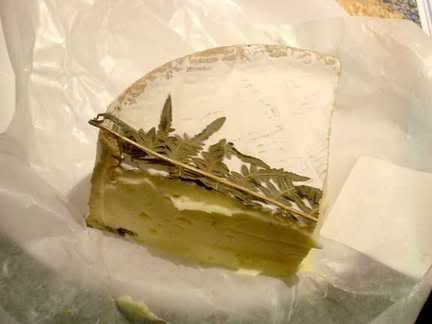 glorious cheese from the gourmet grocer's.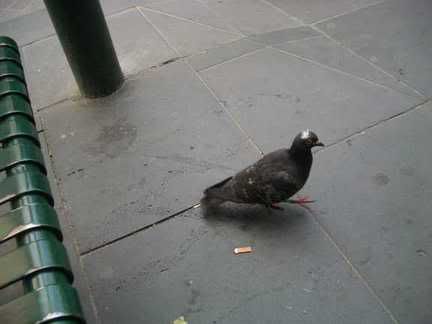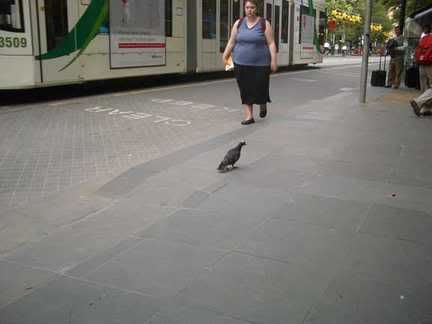 jean and i were sitting on swanston st having a ciggie when we saw this little joker with his tuft of white hair walking by... he just kept walking down the street, very composed bird he was.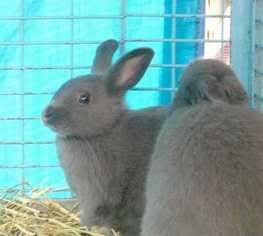 dwarf bunnies at vic mkt pet stall.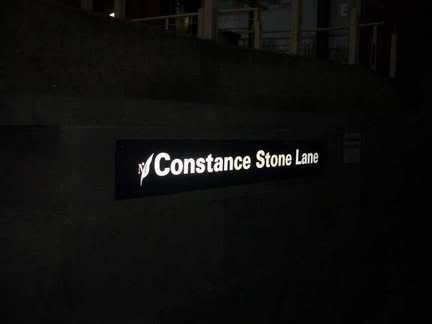 a constantly stoned lane.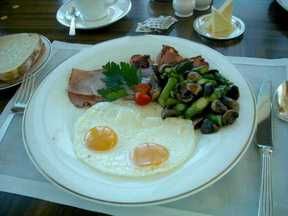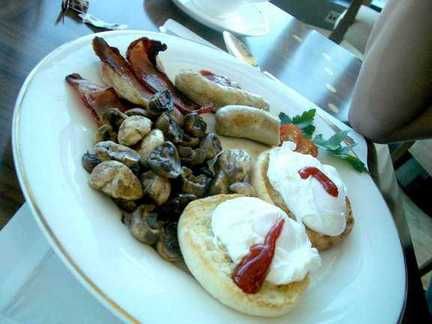 breakfast at crown... above the suites.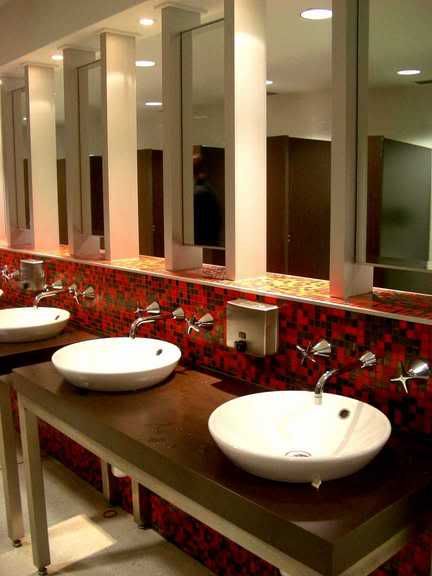 a trippy toilet in QV.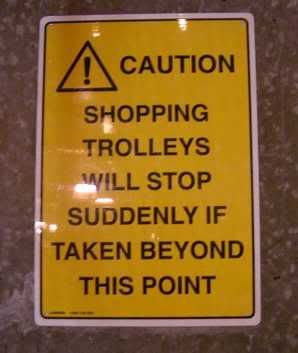 really?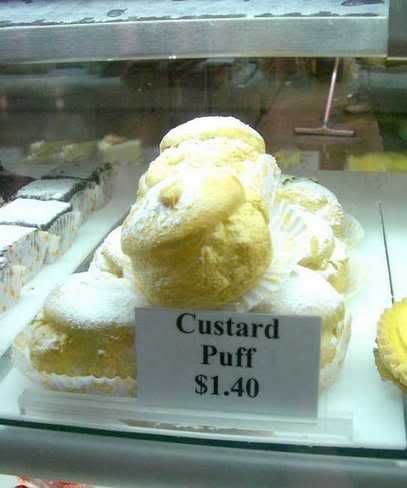 henry's are on sale!
*** this is all a lil' disjointed due to my fuzziness from the goddamned Influenza Occupation which, incidentally, is still in progress.***