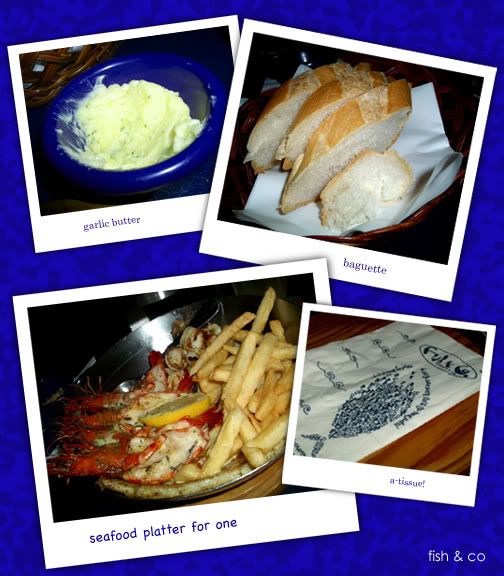 one of my fave places to eat. it's on my mental list of places to go when you want a fail-safe good meal.
my fish & co buddy, freddie who is one of my mates in my brotherhood of trusted pals, is back in singapore (like jean) and we couldn't possibly miss out on dinnering at our regular joint next to park mall.
so we went on tuesday.
even our fave waitress was on duty - kopila, this cheerful girlie with a very unique name and excellent attitude. we ordered the usual baguette with garlic butter and a seafood platter for one which we'd always share.
what can i say? fish & co at the glass house never fails to satisfy (never fails to disappoint??? blame work for screwing ma brain!). unfortunately, the same can't be said for their branch at suntec city.
grilled prawns were big, fat and succulent. the colour of the prawns looked really good especially that night. the squid was perfectly done, with a very slight crisp on the outside and tender on the inside. rice seemed softer than usual (which i actually prefer) and chips were either nicely soggy (love soggy chips) or tastily crunchy. the fish fillet was lightly salted, and pretty fresh.
baguette and garlic butter - always a pleasure. what's more, it's the cheapest thing on the damned menu.
our usual passionfruit soda came a little heavy on the syrup. but we had a word with kopila and she got it sorted.
i wasn't very hungry when we started out, but the food was so good that we finished everything anyway. by then, i was dead tired and could barely keep my eyes open long enough to get home. totally satisfied!
:)