eeeps. i'm behind again. i guess this means i had a good weekend? :)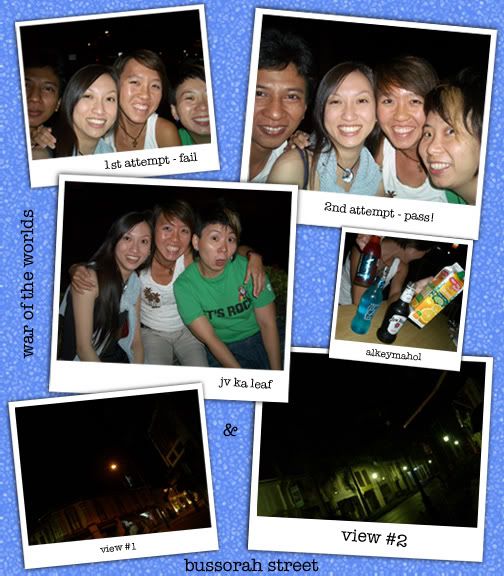 caught war of the worlds on saturday midnight with the KA and 2 of her friends, djasli and leaf. the movie rocked... t'was gripping every scene till the conclusion, which was a little disconcerting. it kinda looked like they ran out of time to do a proper ending, and decided, hey! why not round up everything with a little documentary blabla and scientific mystique? weird. but i still liked it.
we then wandered on to loiter in various spots before finally deciding on a plan of action. which was to purchase alcohol from 7-11 and walk on to bussorah street for more loitering and banter. we settled ourselves outside a coffeeshop which probably had sleeping uncles behind the closed doors. trying not to make too much noise (which was hard because we had excellent company, the kind you laugh your ass off with even though you've just met), we told corny jokes and other interesting stuff (such as the story of my insane goldfish) till 4am.
been a long time since i loitered. cheers to two new friends (and one old one) who rock!