@ devonshire, last wed night with terry.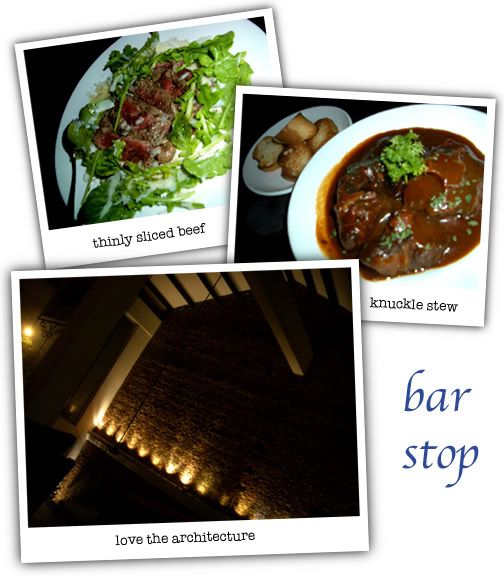 thinly sliced beef was quite yummy. tender and tasty... i finished all of it even though i wasn't very hungry. rocket leaves were a bit of a hit and miss though - some were fresh and crunchy, some had an acidic aftertaste.
his pork knuckle stew was very full in flavour but lacking in actual amount of stew. heh. it was more like pork knuckles in a dark sauce.
always love sitting in this place - sheer volume of ceiling height and gorgeous pitched roof reminds me of my melbourne apartment. :)
@ the ginger garden, botanic gardens, on friday night with my ex-housie cum brother-in-crime, leon the crazy botak. :P
this place is gorgeous. tucked in the midst of lush greenery and landscape, the building is old-asian architecture with a split pitched roof and few solid walls. apparently, there are ginger plants all around this area (halia = ginger in malay).
the staff were top-notch service people. very, very nice... on the ball, superbly polite and full of smiles. the last time i saw people like this, was the service crew on the Sea Shaw.
we didn't book a table, so couldn't get a nice spot in the courtyard. but the dude at the recep told us so earnestly and politely that he could put us at a very nice table indoors, that i decided we could give it a shot.
both the appetisers rocked. foie gras came with a little apple strudel thingy which went fabulously with the richness of the liver. the mussels were some of the best i've ever tasted - extremely tender, extremely huge and extremely juicy!
my duck dish came with a strange ball on the right. at first i thought it was a roast potato. upon prodding, it turned out to be something wrapped in a leaf. after more prodding, the something turned out to be bits of meat and chopped vege. i took a bite. and that was all the action seen on the right side of my plate.
the duck itself was not too bad. could have been softer, but was nicely seasoned. slices of duck were sitting upon a potato patty, done rosti style. you can't really go wrong with potato, though i must say the rosti @ marche tastes generally better than this.
leon's lamb was fantastic. the photo doesn't do it justice, my apologies (poor lighting conditions). cut in thick slabs, pink in the middle, with just the right amount of flavour, juice and fats. yum!
left the restaurant quite nicely sloshed on red wine. they serve house wine in hugeass glasses here! well, that and the fact that i'm not a high-capacity drinker nowadays (understatement of the year).