home on mc. sigh. barely slept all night from a splitting headache and fluey nose plus congested chest. my nose has been acting up all week, kinda sitting in the middle between being sensitive (hayfever) and full-blown flu. methinks a certain coughing colleague next to me has something to do with this. he has been coughing his germs out and about for more than a week now... and he's not the most considerate person either.
things went very pear-shaped last night. so here i am, on painkillers and antihistamines... feeling like i'm underwater. bloop.
anyways, i've not had the time to put up pictures from the weekend. so here they are!
slept all day saturday (fighting the nose), so sunday was scheduled for bigtime retail therapy session with mel. at the novo store at great world city, we found a brand name that was oh-so-perfect. :) so it was only right that melissa bought a pair of melissa heels, in sexy patent black.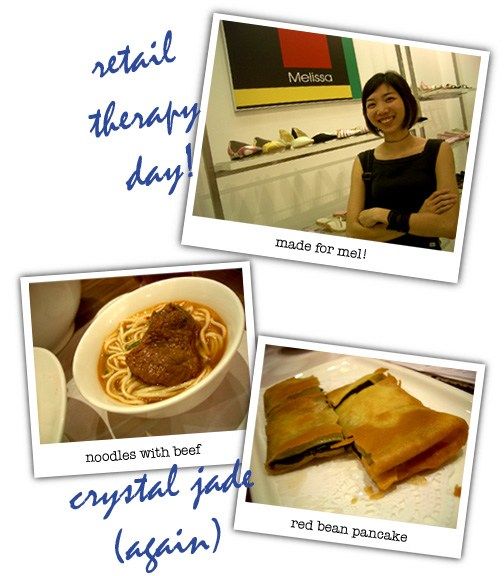 sustenance was had at crystal jade again, at takashimaya. not many pics taken because the food didn't look so good this time - the soup dumplings were sitting on a sorry-looking piece of lettuce. and the noodles we ordered this time, with tender beef, came drenched in chilli oil. felt a little jibbed, because the picture in the menu showed clear broth which was what i wanted. i think i'll stick to noodles with pork ribs the next time. drunken chicken was too heavily seasoned in wine - t'was an almost antiseptic taste. we had room for dessert, so red bean pancake was ordered. the skin was too thick and powdery - not one of the better stuff i've tasted. all in all, a 50% experience of the last crystal jade visit. tsk tsk.
i picked up the super chinois-girly heels (at a height i've never attempted before) i'd reserved. the first pair of heels i've bought in a long, long time that is not in black.
foot petals rock. 'nuff said!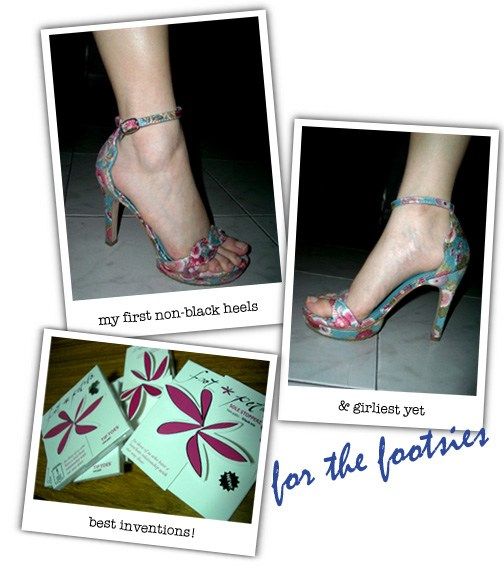 and my search for the perfect big black watch ends here. :)
the only thing is... he doesn't tell the date and month. and i'm used to my swatch doing that, so i'm gonna be lost sometimes. :P still like the citizen nighthawk, will consider procuring in the not-near future.
coming up next are - *gasp* silver things!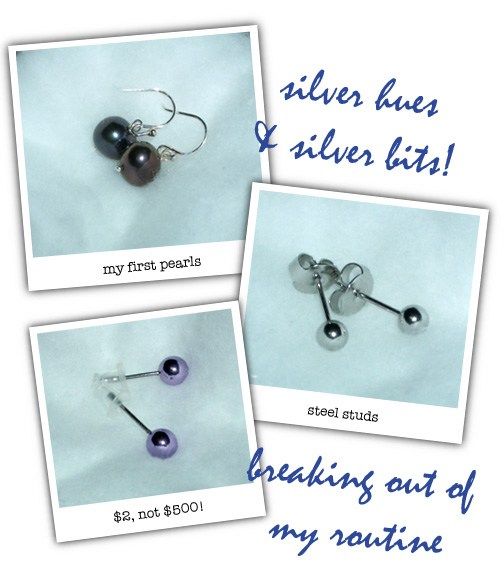 i've decided to open my mind to the metal i've always hated. baby steps, though. steel instead of 925 sterling whereby possible. those pearls came with silver bits, so no choice. :P and lee hwa is selling purple gold studs for 500 buckaroos - i found similar ones for $2. my purple/silver set is now complete. :)
for those who are confused, my personal colour schemes are as follows:
main scheme - blue + gold/burnished copper/gunmetal
alternate scheme - purple + silver
there.
one last set of pictures before i hit my pillow again. saw this little one on my way home, just sitting there doing absolute jackshit. i thought he was one-legged, until he got tired and put his other foot down.
*this disjointed post was brought to you by an ultra-shortcircuited & burnt-to-a-crisp pikachu muffin still in the oven*