okay, this is going down in canyon-history as the longest post i have done so far. i'm pretty sure it's gonna beat my melblog entry last year, or maybe the midnight adventure @ mustafa centre with val. :P
my birthday week started early this year... saturday, 12th nov to be precise. that's 5 whole days before the actual day of significance. in fact, i've never had such an extended birthday before... the most i've done was 2 days max. IN FACT, this is the first year i've had an entire birthday week. ha! and one more 'IN FACT' - it went on for even more than a week, stretching from 12th nov saturday to 20th nov sunday!
here we go!
burpday-food #1
12th nov, saturday.
it was a normal, lazy saturday arvo when my mother came to me and told me that we should go for a nice sharksfin dinner. just the three of us. i suspect my dad really just wanted to have some sharksfin and my birthday was merely an excuse. :P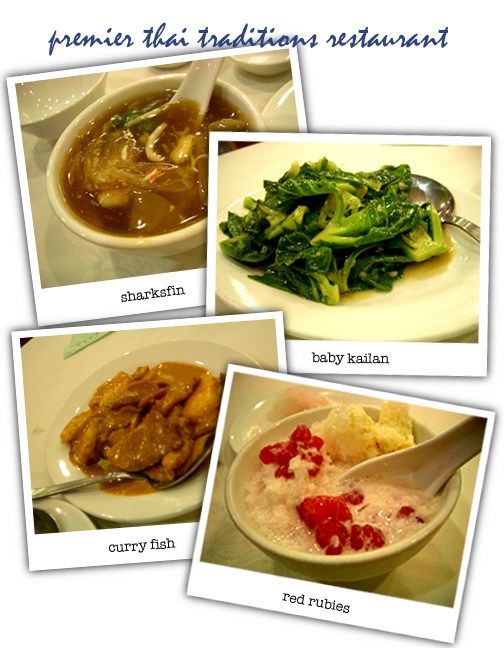 it's been a long time since i've sat in dad's car. very nostalgia-inducing. felt a little like a child again... after a pleasant drive, we arrived at premier thai traditions restaurant, located in sembawang. this place is supposedly well-known for its great value-for-moolah sharksfin soup.
that much is true. the sharksfin soup was fabulous.
but the rest of the food was quite terrible. ahem. well, the rest of the food basically sucked.
fish slices in curry were over-cooked, pathetically thin and drowned in too much spices/chilli. could not taste anything beyond HOT-STINGING-SENSATION-IN-MOUTH-AND-THRO
AT. baby kailan was below average, not very fresh although not beyond consumable standards yet. the red rubies were BAD. the hardest, toughest red rubies my teeth have ever had to tackle. and this is supposed to be an authentic thai restaurant, mind you. i only ordered the rubies because i wanted to give the place a chance to redeem itself with my tastebuds. well, on the contrary. well on the contrary indeed.
nonetheless, i enjoyed the time with the foggies. i realised that i'd not told mother much about my current work, unlike before when i used to tell her everything about the magazine and happenings in my previous office. so i spent dinner feeding her with everything that came to mind.
the dumbass restaurant piled on a whole lotta extra charges, and we spent the drive home bitching about them. :P
burpday-food #2
15th nov, tuesday.
my most extravagant birthday treat this year, courtesy of mr jenn ong. jenn and i used to go out a long time ago. we fizzled out and since became better friends than we were as partners. he told me to pick a treat. i picked morton's to find out if there could be better steaks than my favourite little french place.
les bouchons still wins, hands down. :P
morton's scores on service and its swanky ambience. service peeps are VERY well-trained. i was highly entertained by the little presentation given to introduce the menu and help diners make their choices. i don't know if anyone else in the restaurant had as much fun as i did though. the dining crowd seems a tad serious over here. jenn booked a very nice circular booth. service staff pull the table out for patrons to get in/out of their seats. no scrambling required.
the presentation comprised of gigantic mutant vegetables, the whole dizzy array of meat cuts, and an extremely large, black, and very live lobster - flailing its claws, as it was lifted into the air to make a point about how fresh the seafood here was. prior to this, i was unaware that there was something alive on that trolley.
anyways, on to the food.
we had a single cut filet mignon each. i'd give it 8 marks out of 10. it was pretty good, although my medium rare was a little more rare than what i expected, and jenn's order of rare was basically uncooked. still, very good quality beef, and very delicious regardless. anything less than prime would have tasted vile if done too rare.
(for the record, les bouchons gets 10 out of 10 from me.)
creamed spinach was very rich, very soft, and slightly lacking in seasoning. potatoes were inconsistent, some were heavenly-melt-in-your-mouth morsels, while other were a tad under-cooked. almost forgot about the salad! blue cheese dressing was a little full on upon first bite. tasted like liquid plastic. but hey, it gets better and better with each bite. this is the first time i have gone from YUCKS to YUM from the start to the end of the same dish.
dessert was our choice of upside-down apple pie. the maitre d' tried to recommend their famous chocolate cake but i thought the apple pie sounded better. i guess i should have listened to him because the apple pie was terrible. it was all apple and no pie. with a large yummy scoop of vanilla ice cream on the side, we were really eating ice cream with sweetened apple slices.
the maitre d' was a rather funny man. :) the photo with the giant moet was his idea. hee.
all in all, t'was a very enjoyable experience and a very special treat. the food is a little over-rated, but they make up for it with great service. much appreciated. :)
burpday-food (and drink) #3
16th nov, wednesday.
my time with the babes for an intimate gathering at alley bar. raina's boy danny made the arrangements for a cosy table and a fabulous proscuitto pizza!
my birthday drink was a super lush strawberry margarita from mingster. absolutely yummy and very easy on the liver. am over the hard liquor, glazed eyes and gut churns. life is about enjoyment, is it not?
the piping hot pizza really hit the spot. i LOVE proscuitto. i LOVE cheese. it was perfect. thanks dannyboy!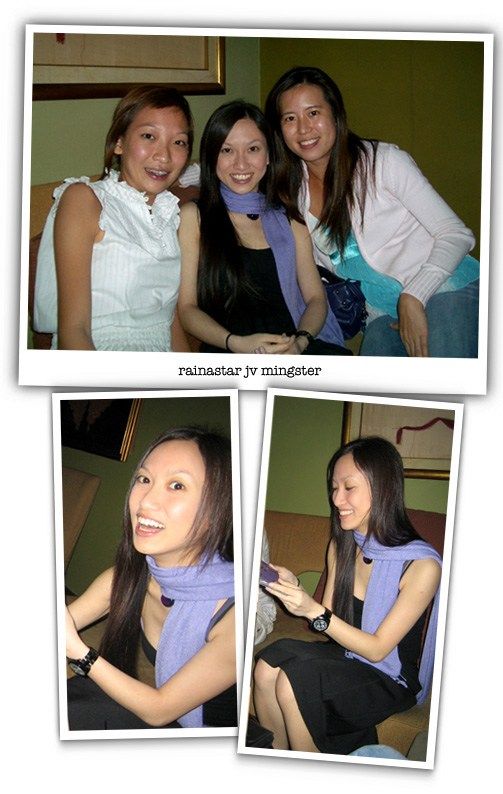 and i LOVE my babes too! :) estherina had to bail because she was ill, but she was there in spirit i'm sure. :) mingster had us in stitches with her majorly entertaining story of the night. i had a really, really good time. i'd much rather be able to hold convos with people i wanna see, instead of drinking mindlessly with half the world jumping and shouting around me.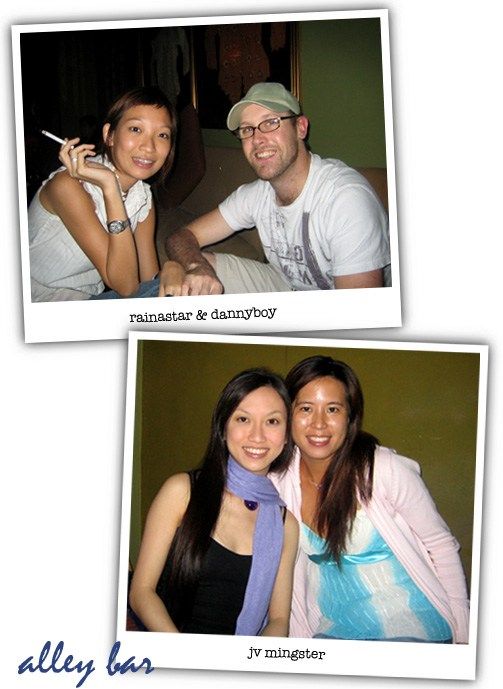 thank you babes! :) for everything.
burpday-food #4
17th nov, thursday.
by this time, i'd already celebrated my birthday 4 times.
the big day itself was reserved for lennon and clayton, my best buds since our architorture days 10 years ago. unfortunately, clay couldn't make it because of work. so it was just me and len, out to takeover and destroy kuishin bo!
for those not in the know, kuishin bo is a japanese buffet located in suntec city.
t'was my first kuishin bo experience. and boy was it fun!
i went crazy taking peektures. i'd follow len around while he picked food, and i'd snap this and that with my little pentax. fuckloads of photographs below... beware! :)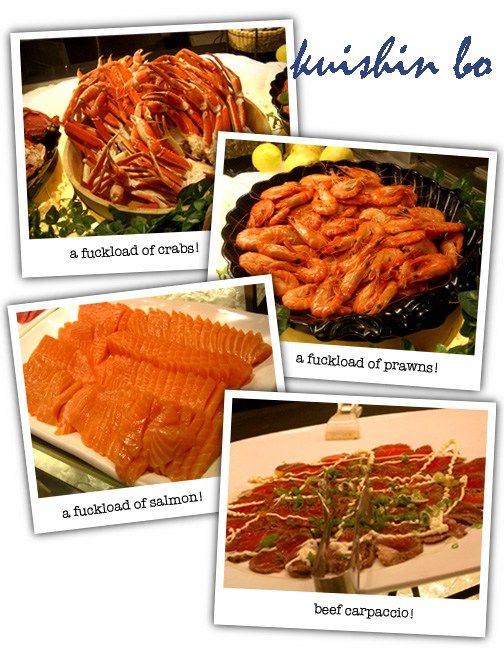 salmon sashimi slices were so fresh they could literally swim into our mouths. i didn't expect to find beef carpaccio! walloped an entire tray. :D the seafood garlic rice rocked. all the right textures with delicious morsels of seafood basking in the fragrance of garlic!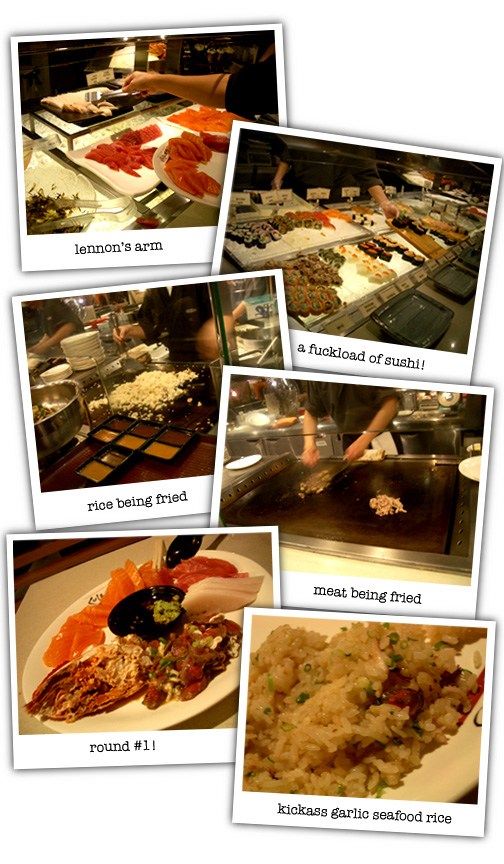 kuishin bo has a public announcement system on which specials are ummmm announced. this is done against a background music of the most amazingly funny jingle which sounds like it was sung by oompaloompas! everytime the jingle came on, we'd piss ourselves.
speaking of specials, this was a pretty fun way to get patrons into the swing of things. everytime a special was announced, there would be a limited quantity and people would hurry along to the point of collection. we were pretty lucky to be in the right place at the right time, everytime! i just happened to be standing there looking at the lobsters baked in cheese, wondering if i could take a photo of the tray, when the jingle came on and people started lining up behind me. so, i took a lobster. :)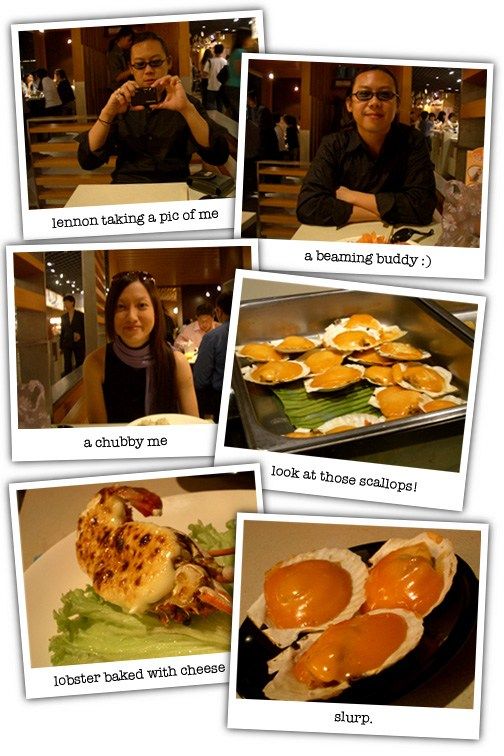 lennon got the other lobster in pepper sauce at the second special-giveaway.
i can't go into detail about everything we ate or this entry will never end, but i can say that nothing was too bad. :) most were very good.
but we can't not talk about the candyfloss incident. :D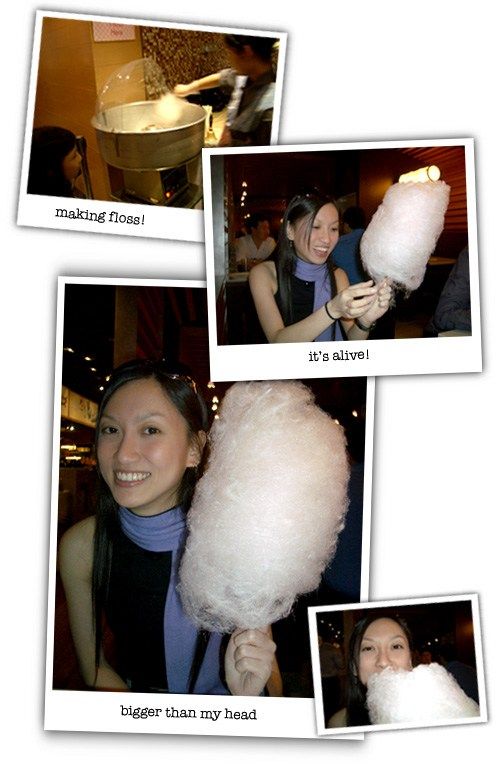 it was sheer luck as well. i'd seen the candyfloss machine earlier and asked lennon whether it really worked or was merely a decorative thing. he confirmed that it was working, and said, "why don't you go and check it out?" so i did. and guess what? just when i was standing there wondering how the machine worked, the silly oompaloompa jingle came on and it was candyfloss time! a young lady appeared and started making candyfloss right in front of me. fucking amazing.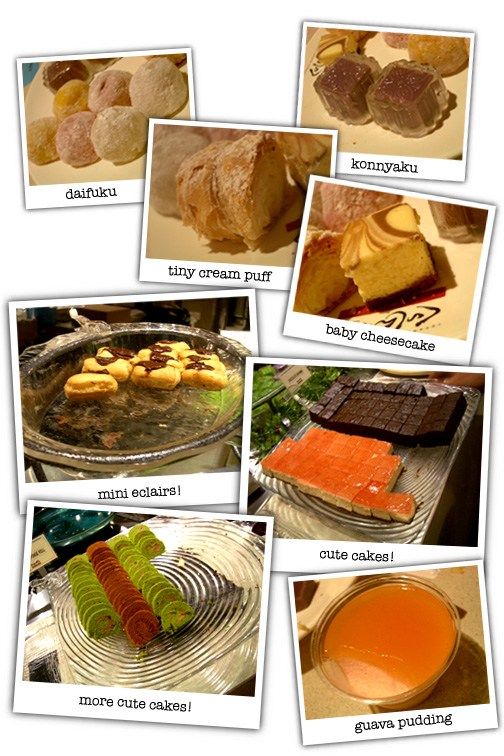 i ate till i almost burst, and i still didn't cover all the food in the place. kuishin bo rocks! bigtime! this was my favourite birthday treat. :) :) :)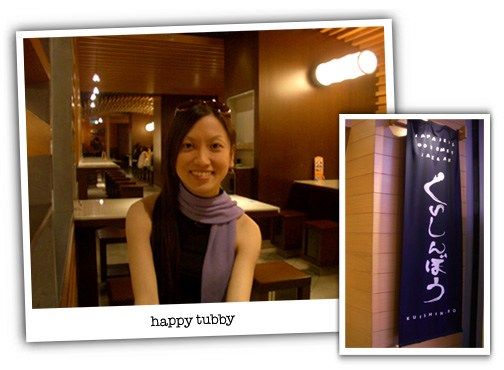 a tiny snail came to wish me happy birthday when we bummed in the roofgarden for abit.
well, actually we placed a 10 cent coin next to it for a size comparison, and the little guy made a dash for the moolah! :o
burpday-food #5
18th nov, friday.
this wasn't a birthday treat, but a ketchup sesh with mel at far east plaza, whom i'd not seen for awhile. :)
we found an absolutely kickass little haven to feast at! when i say little, i mean LITTLE!
in the basement of far east plaza, there are these tiny food places which do not even have proper tables. there is a ledge provided for peeps 'eating in' to use as a makeshift table. we sat on oldskool stools. there were people ordering and carrying food over our heads from time to time. it was almost as if we were sitting in at a street stall in europe. it was a truly quaint experience, and not an unpleasant one at all. :)
the food was CHEAPASS! 3bux bought me a large cheese sausage and creamy mash potato in a paper cup. steaming hot. when i bit into the sausage, you could almost hear my tastebuds shriek in delight. slathering the mash on the sausage was a stroke of genius. and the way they cut the sausage made all the difference too - i've picked up a cooking tip. :)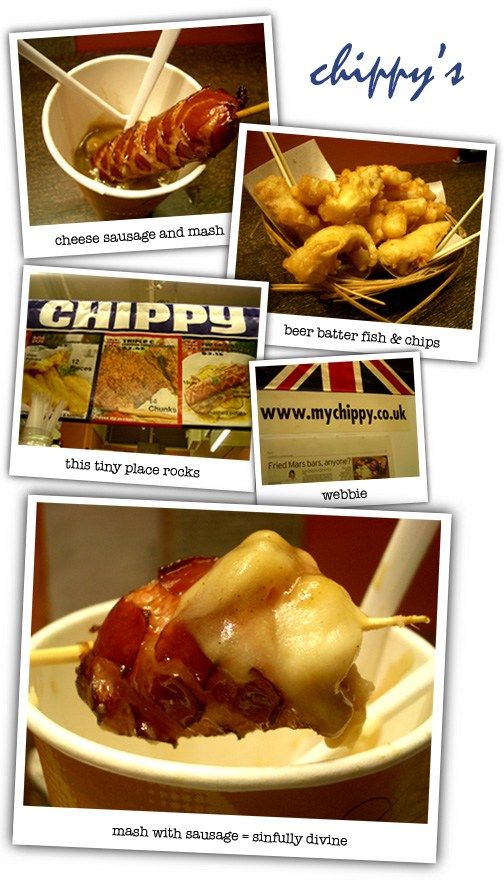 mel's beer batter fish and chips were superb as well. freshly done, piping hot and crispy with really tender fish fillets in bite-sized pieces. we were quite bowled over. the serving portion was way generous too! we couldn't finish the fish & chips. i believe they cost even less than my sausage and mash.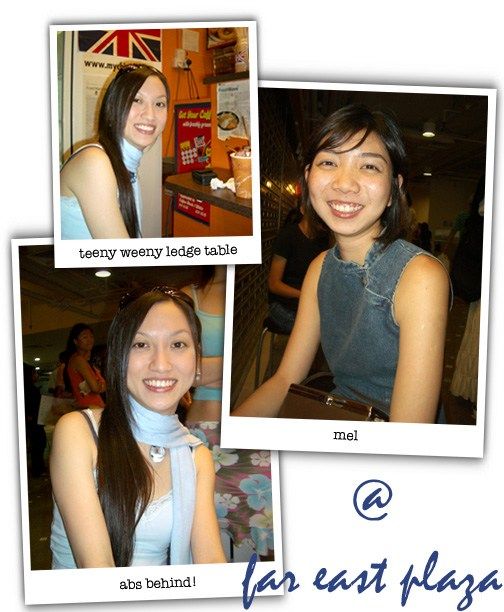 t'was lovely to see mel as always. she shared some sobering news with me, which i was quite touched by. *big hugs* and much strength to a lovely friend!
burpday-food #6
20th nov, sunday.
post-birthday dinner treat from my best friend, the KA, who had just arrived back in singapore suddenly (due to reservist training for her man mr cheng the CY). although reservist is never something to be happy about, i must admit, i am truly glad to see my fellow agent and oldest pal. :)

sun with moon @ wheelock place. what a fabulous place serving excellent food! each section of the restaurant is furnished in a different style, with plush cushions, funky seats, cosy booths or romantic tables by the 'tree'-lined windows. poems ran on the ceiling (which the KA became quite fascinated by and actually walked around the place to copy down the whole thing in its entirety). service was wonderful, with an air of gentle courtesy much like in authentic japanese restaurants.
we were starving. the food ROCKED. the beef was so tender that when the KA was biting into it, i remarked that she was biting into a piece of foie gras. it turned out to be really soft beef. the foie gras was superb. melt in your mouth and not a trace of blood. how did they do it? i have no idea but i will definitely be eating that again. and again. :)
hidden under these delicous delights was a treasure of savoury rice. a very generous serving of savoury rice, to be exact. we basically ordered two mains to share, the other being a very tasty piece of codfish fillet, which does not come with rice. that was a good thing because the first serving of rice under the beef & foie gras was enough for us both to share and to eat with the codfish as well! we were very pleasantly amazed.
after a totally satisfying meal, we ambled out for oldskool ice cream cones from the uncle in the street. :) and ate them while poring over an impressive photo-exhibition currently set up along orchard road.
it was the perfect finish to my birthday week (which spilled over by just a little). :)
hmmm.
what's missing here?
ah... what's a birthday without pressies?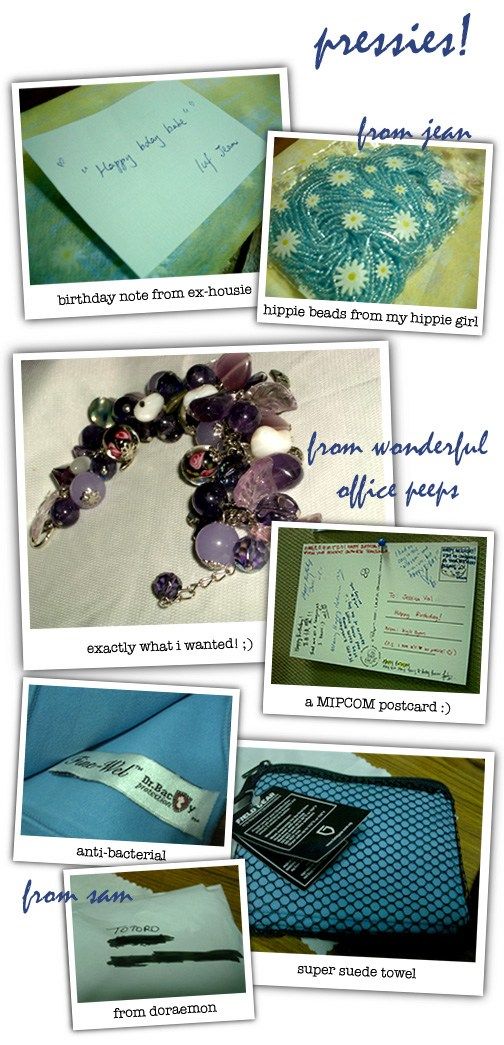 lovely, long strands of baby blue beads from my beloved ex-housie jean, which are currently hanging on my shelf of favourite books. :) this is definitely coming with me when i decorate my own apartment.
my office peeps presented me with a gorgeous chunky bracelet in purple and black, from my favourite trinket shoppe. it was exactly what i wanted to match goth-purple, the baccarat crystal. major credits to synn for coordinating it. ;) and that mipcom card is possibly one of the nicest birthday cards i've received, even though it is a free postcard from our boss and has a smurf on it.
a high-tech suede towel in dusky blue (my fave shade of blue!) from my big brother @ work, sam (in addition to my nike thermawear jacket already given in advance) for the purpose of blading! :D this little piece of work is anti-bacterial, fast-drying, and hypoallergenic so it's great for people like me with dumbass skin that reacts to everything and anything! comes in a handy pouch i can attach to my bumbag while blading. :D

from mingster and estherina, two pairs of lovely stud earrings and the sweetest little birthday card. care was taken to hunt down earrings in surgical steel for my sensitive ears, as well as to consider my anal-retentivity about colour: blue + gold and purple + silver. i'm quite touched by this small but important attention to detail, babes! :)
the KA apologised for the lack of a substantial gift this year, but i am quite pleased nonetheless. she remembered my love for horses (which started since i was 8), though i must have told her this bit of trivia eons ago. possibly when we were 14. this is something i truly did not expect her to remember. she brought from her travels, this beautiful string of wooden pegasus with feathered tails that swivel in the wind and little bells that tinkle gently, as well as a pretty pair of handcrafted earrings with blue beads and copper hooks. :)
a small token from sarge came in the form of his unused remainder of la mer lotion, for my recently-unstable skin. this stuff is truly impressive... i hope my skin doesn't become too reliant on it! i've only been using it for a coupla days, and i can already see a difference. it's no wonder people pay hundreds for a tiny bottle!
finally, my own pressies from me. it's been freezing lately, and all my old boots are a little too funky for work (clompers that can kill people with one easy kick). now, i have a decent pair. :) the other pair of velvet heels are my first purple footwear, and cost only 1/6 of the boots' price. :P
congratulations if you've managed to read through this much! :D
thus concludes my longestass'd post ever.
:)