this was a decadent lunch back in may, after an appointment with my doc who went through my ultrasound and x-ray reports (which were both okay).
i thought it was a great time to use the very nice one-for-one lunch voucher from my brother. :)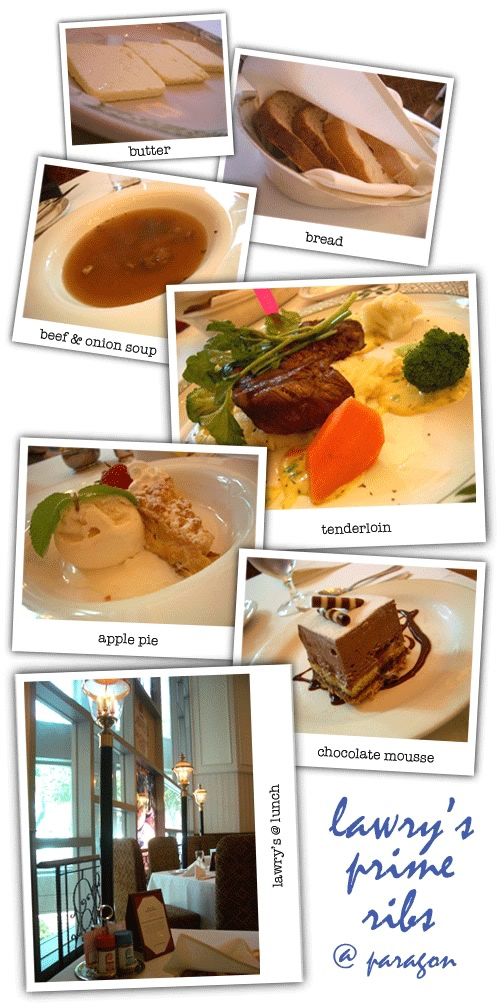 and... i have a new favourite steak! tenderloin at lawry's was just superb. maybe i was lucky and the chef on duty was having a great day. this beats morton's hands down, no question about it. the beef and onion soup before the main course was also extremely yummy and prepped my taste buds for what was to come. no comment on bread and butter because i was saving tummy space for the good stuff. :)
apple pie dessert was also much better than the upside-down apple pie at morton's. just the right amount of apple and crust, and a scoop of vanilla ice cream for a heavenly hot&cold mouthful of goodness. i'm not a big fan of chocolate mousse but it was quite nice and not too sweet.
$54+ for a set lunch, with soup, main, dessert and coffee/tea.
ps. steak was better than my favourite french restaurant, les bouchons. but more costly and not as cosy an ambience. objectively on food standards alone, yes - lawry's is now first place for me for steak. :)