the kalla boo (aka the KA) and i used to nuke baby potatoes as snacks, when we were impatient 14-year-olds. i'd forgotten about this super-easy, duper-yummy snack for many years now... until i saw a bag of baby potatoes in marketplace @ raffles city, while buying up a storm of comfort foods the other day. i couldn't resist grabbing some.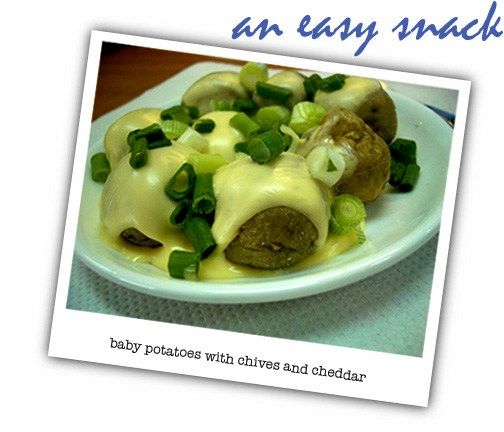 so i brought them to the office one morning and took a trip down memory lane making these. :)
1. wash potatoes well (potato skin has heaps of good stuff and should be consumed... it's yummy too).
2. poke potatoes all around with a fork.
3. get cheese slices out from fridge and put on top of microwave.
4. nuke potatoes in microwave on high for 4 minutes 30 seconds.
5. drape softened cheese slices over potatoes.
6. nuke on low for 30 seconds.
7. sprinkle chives.
8. eat while hot!
:)