again! i know, i've posted this place at least 4 times on this journal. :P but hey, the food really rocks. and this is still a backdated entry by the way. i'm still not eating much solids yet. :)
it was my pal clay's birthday dinner, back in mid-july. lennon couldn't make it, so it was just clay and the cat. i have been known to him as just 'cat' for the longest time... more than 10 years now. it's amusing how it confuses people to hear him call me 'cat'. they think my name is catherine or cathy or something.
not wanting to risk eating food of unknown quality for this old pal's burpday, i decided that ichiban boshi was a foolproof dining venue.
so, foolproof favourites were ordered and none disappointed. hanasaki ika tempura is basically squid done tempura style. it has become my firm favourite at ichiban, so much so that the staff know me for this. salmon avocado handrolls are the other must-order items whenever i eat here. lobster handrolls are good too, but personally i still prefer the salmon ones. in fact, the salmon handrolls are so good, i'd rather eat two of these same ones than one each of different flavours.
duck with cold soba was quite nice to fill the tummy up with, though i found the duck slices less tender than before. the last dish on the table was the salmon carpaccio, which probably should have arrived first, being an appetiser. but they're forgiven since they're such nice service people and their food more than makes up for it. thin salmon slices melt away in your mouth along with the tang of crunchy onions, a sweet, spicy sauce and creamy mayo.
t'was a truly satisfying dinner. :)
this will be the lunch venue i'm going to miss the most in the office area.
i hope everyone realises by now that i'm whipping out all the backlog i've chalked up in the past few weeks/months, and i'm currently still extremely unable to chew very well. :) there are at least 7 more entries to go before i catch up to present time, so hang on to your panties!
many weeks ago, i spent a wonderful shopping day with one of my oldest galpals, nicole. nic, kalla boo and i have been firm friends since we were 13. i hadn't seen her much for many months, so it was great to finally catch up. it was also a brilliant sunday of retail therapy for us and we hauled along an impressive loot each. famished and tired, we decided to check out the newly refurbished newton food centre.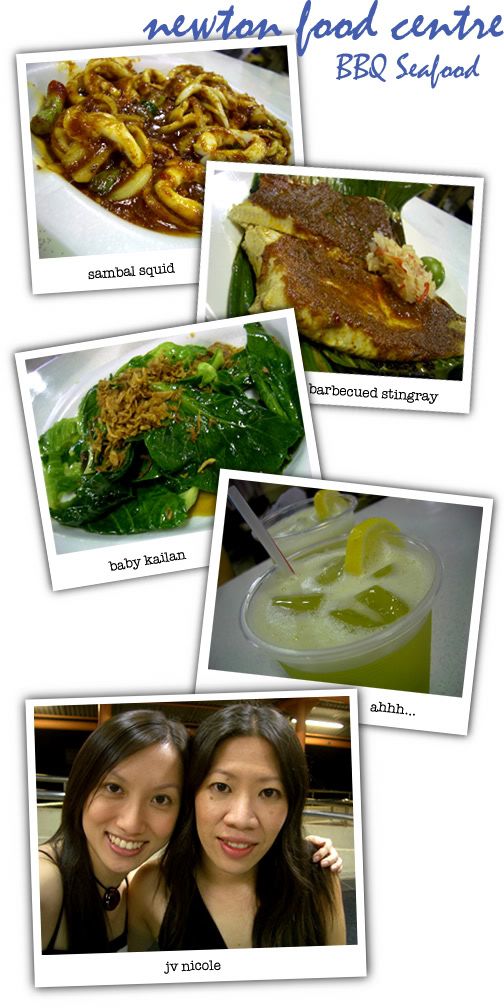 i do not like the new newton food centre very much. :[ what a terrible design layout! man, it not only seems like it's shrunk, the horseshoe layout traps hot air within and keeps the breeze out. with all the extra illumination, the seating area surrounded by a fence of food stalls felt like an open-air sauna with dining options. even though the old layout was a little messy and wasn't aesthetically pleasing, it was at least comfortable with ample tables and seats which were spread out over what seemed like a bigger area. it probably wasn't any bigger than it is now, but that's what poor design can do to a hapless food centre.
the saving grace was, food is still good there. we ate from one of the numerous barbecued seafood stalls, and promptly forgot the name of the stall. heh. it was a blue signboard which said either 'A5' or 'A9', if that helps. :P i need to get myself into the habit of snapping the signboards... i'm getting senile.
young ladies intending to have a meal there, beware of sleazy seafood servers who may attempt to hit on you as you dig into the food (even if you're totally engrossed in filling your tummy and yabbering to your girlfriend).
o.o