this was the last lunch i had with my brother sam in suntec city, back on 27th july. as i mentioned before, things at work had been getting from bad to worse, and we really needed to treat ourselves to yummy things for lunch.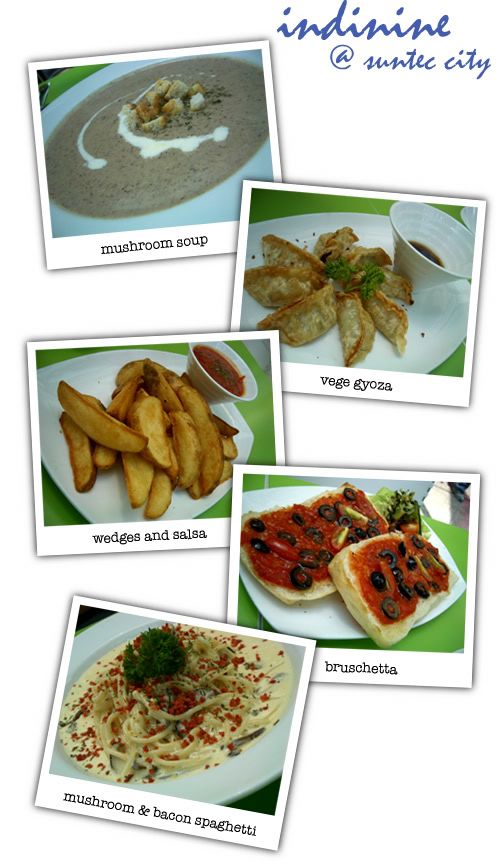 this was a great choice, thanks to sam! :) this place is vegetarian, but the food was nothing like what people expect to see in vegetarian eateries. we went a little crazy ordering stuff because they all sounded so good (and we were very angst-ridden, so we needed to EAT). the mushroom soup came in a really lovely colour and texture. tasted pretty good except that i couldn't handle too much of the bitter aftertaste. sam liked it though, he reckons it added an authentic earthy flavour. maybe i have too set a notion of how mushroom soups should taste (i'm always thinking of that mushroom soup with truffle oil i had at buko nero a long time ago). i think i should be more open-minded about these things. :)
those gyozas were fuckin' fantastic! i couldn't tell them apart from normal gyozas with meat stuffings. there were pieces of what tasted and looked like minced meat, but weren't. not sure what's actually in them, but they were just as good as any gyoza anwhere - and are healthier to boot.
a hugeass plate of potato wedges came (and at this point, we started to wonder if we'd ordered too much). savoury, hot and freshly made... they really hit the spot. it was the first time for me to eat bruschetta in such big toast-sized pieces, and the taste wasn't quite typical but was still good. it was more sweet than savoury with much less garlic than i expected, but the combination of olives on the sweet tomato paste was quite wonderful on the palate. the bread used was also much softer than the smaller, toasted slices usually seen. this was an interesting version of a typical bruschetta, and wasn't half bad at all.
i really liked the spaghetti, the last dish we were trying to finish up. sam reckons he's had better (but then he's had much better pasta than i have, so our expectations are at different levels). i thought these were nicely al dente, in a rich cream sauce which wasn't too cloying. i enjoyed it so much i ended up stealing most of it from sam. even though i was stuffed and bursting at the seams, i just kept going. :P which surprised myself because i've not really eaten/enjoyed much pasta for the past 7 or 8 years.
definitely a lovely place serving healthy food that i won't mind having more meals at. :)
people interested to check them out, there are two restaurants:
suntec city mall
#03-16 (sky garden)
tel: 62386755
114 neil road
tel: 62225154