before i went on my dental leave, i'd decided to get myself a new skipping rope because i was killing my old rope, the reebok bat-wings weighted rope.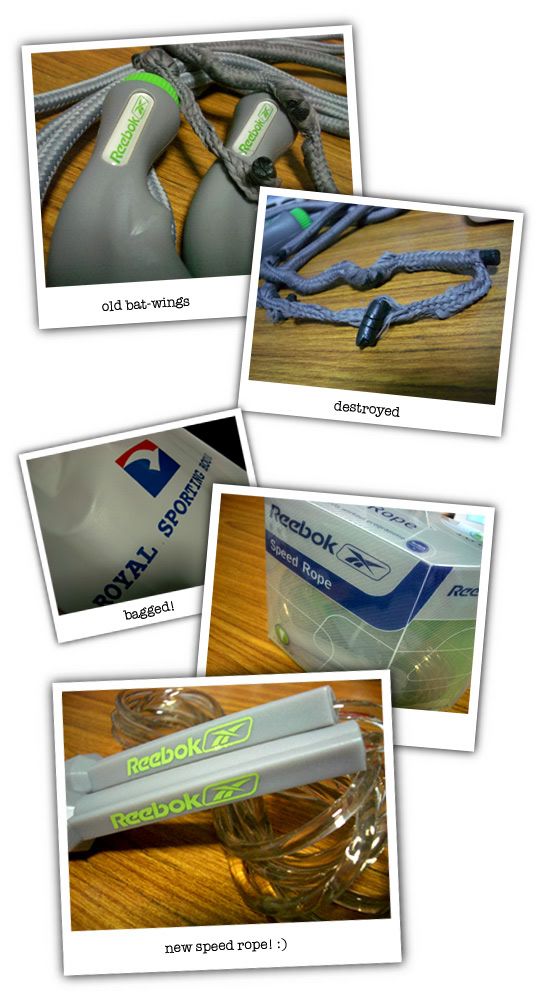 check out the state of the bat-wings. tsk tsk. time for them to go to skipping rope heaven. they were a great workout for people with not enough time, because they were really quite heavy and it took quite a bit of effort just to skip on them for 10 minutes.
however, they definitely aren't very hardy. :p i've only had them for less than a year. during the last coupla skips, i was losing bits of rubber all over the floor.
the new rope is a speed rope and is oh-so-light! suddenly, i was going MUCH faster. that also means i have to skip for a longer time each time. but i'm liking the feel of this rope quite very much. it lets me skip light when i'm not up for a heavy workout, while the old bat-wings just made me flat-tired everytime.
the new rope also looks (and feels) like it's not going to crumble to pieces all over the place. yay! :)