it just wouldn't be right if a major kazu food entry didn't pop up soon from me, after my recent visits to the other sumiyaki spots in town -
[shunjuu izakaya sumiyaki]
and
[nanbantei]
... and my endless, tiresome comparison of them poor lesser joints to my favourite sumyaki of all time. :)
needless to say, i'd actually eaten at kazu a fair few times by now, but have not done another review till now because i thought it wouldn't be necessary after my
[first fabulous dinner at kazu]
. but it's about time kazu made an appearance in my journal again, for taking the top spot in my personal sumiyaki favourites.
it was mingster's birthday celebration dinner. definitely an occasion which called for fantastic food and no mishaps. :)

this is a much more decadent review than the first one because of the amount we ordered! :) t'was definitely a feast fit for a king, with five hungry foodies let loose in a great restaurant. the must-haves were ordered and served in bulk - succulent foie gras, lady's fingers wrapped in paper-thin pork, golden mushrooms wrapped in paper-thin pork and quail eggs wrapped in paper-thin pork. can you tell i love their paper-thin pork-wrapped stuff immensely? :) make a mental note and compare these with those from the other joints (i always order similar stuff, which are those i like very much... so there's an easy benchmark). now these are what i call reeeeeeaaal paper-thin pork! they're so thin and crisp that you can actually see through them!
i shouldn't have to say much about the foie gras anymore. refer to my
[first fabulous dinner at kazu]
for an apt description. :)
it has also come to my attention that kazu does a kickass shishamo (little pregnant fishies). you know how shishamo can taste really fishy at some joints? over here, they use super-fresh fish so all you taste in your mouth is pure, savoury goodness. this has got to be one of the best shishamo i've ever tasted. and i've had many indeed.
steak and cheese skewers tasted even better than i remembered. maybe because when i had them the first time, i was more than a little drunk on choya. :p this time, i could fully appreciate the juicy, tender beef chunks with warm, melted cheese oozing between.
three very giganormous prawns were devoured by my dinner-mates, all of whom gave this dish many thumbs-up. i didn't partake in the prawn-feast because i recently discovered i may be allergic to prawns (foodie's nightmare!!). i can't be 100% sure but i have observed allergy-rashes two incidents in a row after eating prawns. both incidents occured when i was watching my diet for health reasons, so it was very clear that i reacted to the prawns. but anyway, enough of this for now. those kazu prawns looked and smelt so good that i may just go to my next kazu dinner on antihistamines.
some assortments were individually ordered at the end of our meal. i love garlic, and couldn't resist trying a garlic wrapped in paper-thin pork skewer. not too bad, but the garlic could have been a little softer. sally had a gizzard skewer which turned out surprisingly awesome. my last skewer was an eggplant thingy which came drenched in miso paste. it wasn't very bad, but i wouldn't order it again because the other stuff are so much yummier. mingster and larry opted for ice cream desserts, while the rest of us were pretty content by then.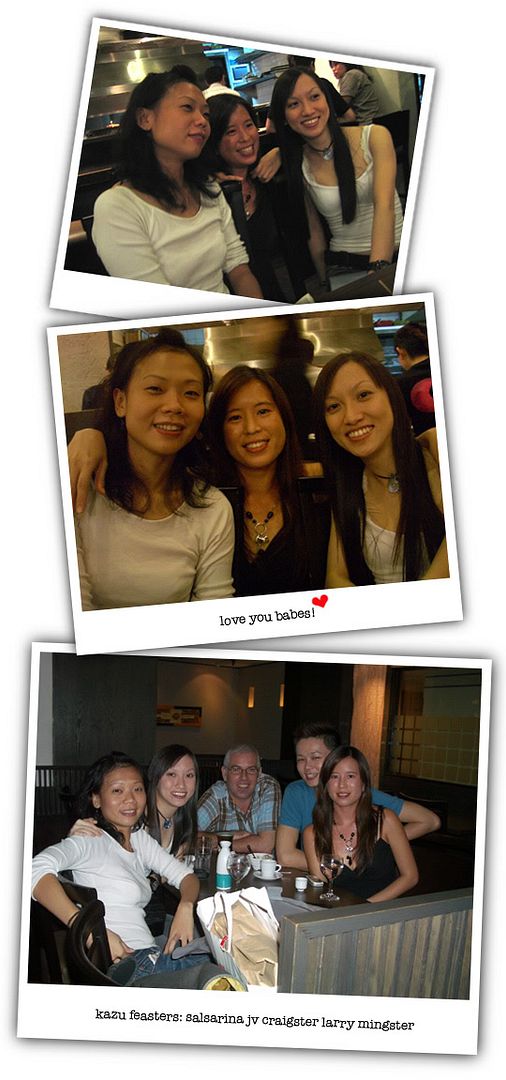 the party adjourned to alley bar thereafter, but that is another entry for another time because i've yet to get all the photographs organised. :p coming up soon, i promise!