a gift, from my big brother sam. :)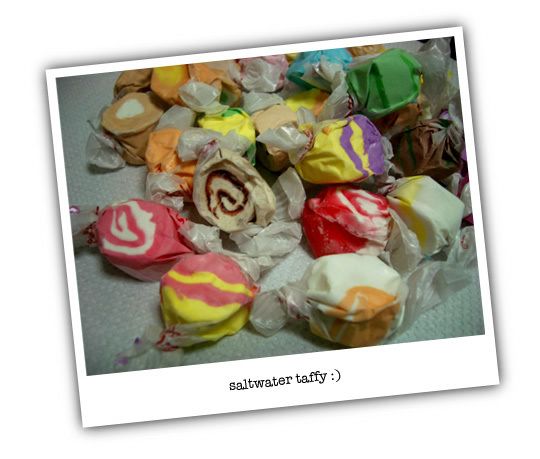 i'd been wanting to taste a piece of
[saltwater taffy]
for the longest time. back in early days of building the subtitling department for the company, synn and i were learning a subtitling software from scratch. our very first exercise was a tutorial-program about three types of yummy bites in the united states: nathan's hotdogs, deep-fried conch, and saltwater taffy.
after many hours of staring at mouth-watering scenes of saltwater taffy from production to consumption, i was convinced that i wanted some. however, it wasn't an easy candy to find. even friends living in the united states found it difficult to hunt down.
i met sam for a quick ketchup one evening and he presented me with my very first bag of saltwater taffy. :) :) :)
it tastes as good as i imagined it would. am now rationing my precious taffy by eating one piece every couple of days...