back in early november, i managed to check out graze @ rochester park, after having been wanting to see what the fuss is about and whether the rumours were true. :p
the alleged rumour was: graze is terrible, but their breakfast is decent.
i disagree. graze is a nice place, but their breakfast is terrible. can't speak for the food besides breakfast though.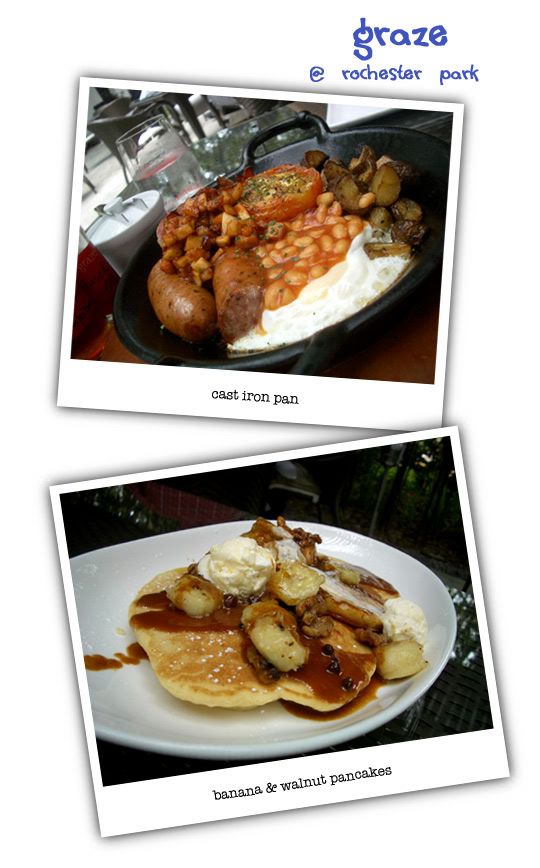 the pictures look good, don't they? well, let's start with the cast iron pan. this was heavily promoted on chubby hubby as a good, hearty breakfast. so i wanted to taste it for myself and see how true it is. bearing in mind that i used to cook myself breakfasts like these back in australia almost everyday, i naturally had a pretty high expectation of something like this. this also means i know how easy it is to whip up a delicious big breakfast like this.
it was quite terrible. the sausages were too salty (even for me, who loves salty stuff), the potatoes were under-cooked, dehydrated, and unseasoned (hard and powdery and tasteless), and the tomato overgrilled (so it was just mush which collapsed upon poking). the rest were average, but then no one can botch frying an egg and pouring baked beans in the pan.
contents of cast iron pan were not finished.
moving on to the pancakes. the combination of flavours was a great idea, but the bananas were mush as well. if they had caramelised them, this would have been kickass. there was also a strange, bitter aftertaste in the syrup, if i remember correctly. i must admit that the pancakes were light and quite fluffy though. and the serving was hugeass. but the going got tough when the pancakes turned soggy after a short while...
this place needs a new chef. or it would be such a waste of this lovely environment to eat and chill in. sitting outdoors on a sunday morning was really quite pleasant. a quick search on google to try to confirm my memory of the banana pancakes revealed numerous reviews on graze which shared similar sentiments. i really hope some good changes happen at graze soon.
graze
no. 4 rochester park
singapore 139215
tel: 6775 9000
ps. i'm using a new font! this awesome gift was from
unpolished_gem
sometime ago but i have not gotten around to using it until now. thanks so much babe! :) i love it! some people were finding it hard to read my old font, so i thought it was a good time to change. :)