i had a most satisfying and productive day! :D
it's been ages since i've had a day off - i even had to work while visiting a friend in melbourne. wasn't much of a vacay, no! my projects have been lined up and i was ready to dig into my next one after i wrapped up the previous one yesterday. imagine my joy when i received an sms from my boss to say, changes in schedule - halt and stand by for more instructions! woohoo!
i did intend to take the day off today to run some errands and pick up the babies from the lab where they were being babysat. but it sure feels good not to have the new project hanging (looming) in the near distance! :D
so, i caught up with sarge today and we went to the cricket farm, bought my bubs some fresh food, picked up the bubs from the lab, and had a cuppa tea + poached eggs on toast @ colbar. after i got home, i re-housed the bubs in suitable homes and did some major tidying/cleaning of spaces in my room. i've not had a chance to unpack properly since landing back in singapore last monday, so it felt really good to be tidying! i also want to re-organise some spaces so i'm going to get that done tomorrow!
and since i'm feeling really productive, i did up a coupla spideybub peektures from some time ago, when my current babies were still babies! :)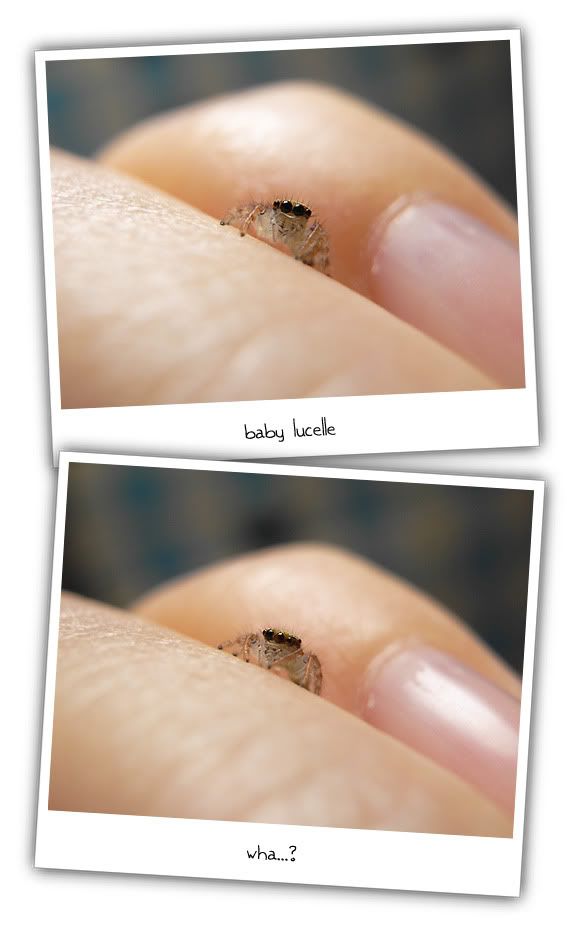 i currently have three babies, all girls - lucelle, lucine, lucina. i had six but three babies died while i was away. one thing i've observed about my current batch of spideybubs, from momma lucia, is that they seem to be weaker and more delicate than lucy's bubs were. weaker genes, perhaps?
i did get a nice video of their big sister, lucius, before i went to melbourne in august. i took it knowing that she may not be alive when i got back. lucius had the most darling temperament. i could actually handle her in broad daylight and she sat happily on my arm, washing her face. :) babysitter, uncle stan, messaged me when i was in melbourne, informing me of her passing, on the 24th september:
Hi Jes,
Sorry to inform u that yr baby Lucius had passed away, prob last nite.
She slipped away to spidey heaven peacefully, leaving behind a furry body on her cage floor, still looking as adorable as ever.
My heartfelt condolences.
as a spideymommy, i have come to terms with the fact that my babies will leave me quite often, especially this species that i so love - they seem to have a pretty short lifespan despite their magnificent size (for salticidae). i still love each and every one of them, but i now can let them leave in peace and well wishes instead of grief.
rest in peace, lucius! i'm glad we bonded before you went on your way!
i will try to get her video edited and uploaded very soon, so all of youse can share our bond. i just have to think of what music to use! (argh!)
and that's all for now, folks! i shall have an early night tonight for a change!
tata for now!
:)