@ east coast last night.
i must say, i haven't fallen in ages. feels quite alright actually. except that my left butt hurts and my elbow took a scraping.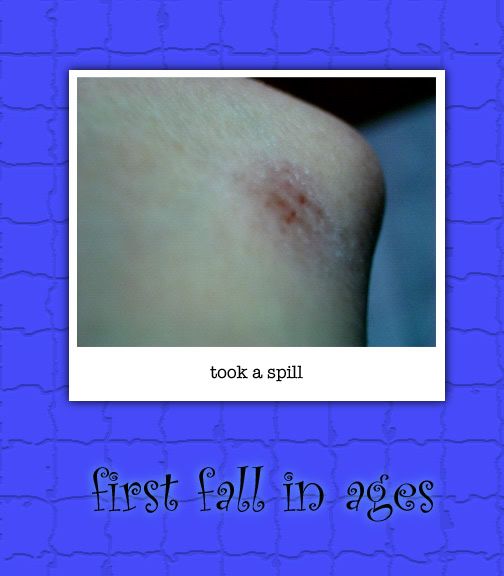 met up with esther and yuming for a good workout at east coast. having known these babes for awhile now, this was actually the first time we've managed to get together for a skate. t'was excellent fun... gotta do this more! weekeday nights for sure!
so the spill happened when esther lost her balance and crashed headlong into me from behind on the left. i barely knew what was going on and found myself already on the ground. we both sat there for abit and laughed at ourselves, before dragging our sore bums to the nearby pavilion for a fag.
yes, fagging while blading is bad. very bad.
yuming led us on to a wicked little stretch of road which hasn't been properly setup for the public yet (no lights), leading towards changi and way beyond the last jetty where KA and i usually stop at. it was a beautiful night to be skating on a quiet path in almost total darkness... with girltalk, giggles and laughing outbursts to keep us going.
we headed back to the food centre for a well-deserved feast. i was too pooped to snap pics of the food, but rest assured i will snap them next time. yuming's choice of oyster omelette was absolutely fantastic. i reckon they add shrimp paste or something to it. satays were munched down, along with fried bee hoon.
we also had bonus entertainment happening nearby. some dudes were climbing a tree and shaking it to try and get some kid's shoes down from the branches. certainly amusing to watch.
yes, more east coast adventures need to happen more frequently! and less aching muscles, in time! :)
feelin':
sore