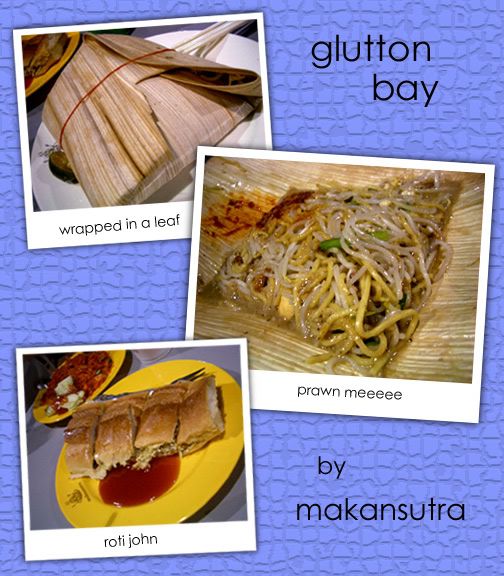 gluttonbay by makansutra. good stuff!

the last time i was there with jean, we didn't get to try much variety because of the insane queues. we saw packets of noodles wrapped in leaves, which looked damned good but we didn't get any.

well, i finally did. met up with sharin, from my ex-company waterich master wordsworth (which is a story for another day) together with laura, and we had a good chin-wag about what's going on in that fuctup place.

and laura and i slurped on the most delicious prawn noodles i've ever, ever slurped on! fuckin excellento! it was piping hot, and super slippery... kept slipping right through our chopsticks but we were scooping bits into our mouths regardless of difficulty. because this was the first time munching on this, i didn't realise spoons were required to eat from this thye hong prawn noodle stall. didn't stop us though.

sharin's malay food was pretty ok too. oh, but the roti john was very not ok. stunning amount of filling... perhaps enough to feed an ant.

met up with some mates for pool and wine before rocking on home. yes, last week i still had time for pool and wine. sigh. i don't think pool and wine will happen for awhile from now...