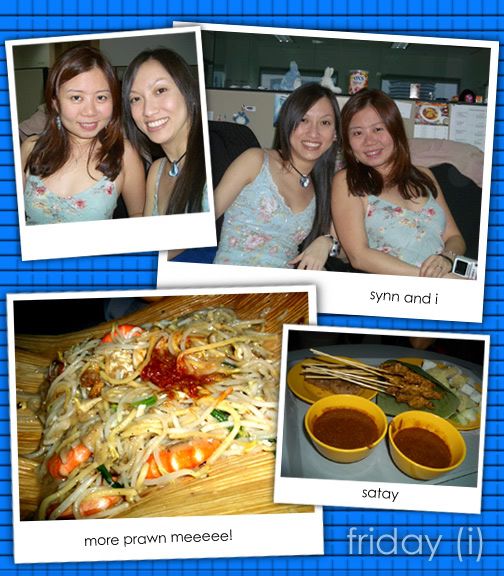 i had a most excellent friday last week. tomorrow is friday again... yes. i'm only getting around to blogging last friday's blabla's today. i better do it before this escalates into more than a week. i will, i will, i will not chalk up entries as far as possible anymore! ***try***

so friday, synn and i happened to wear very similar colours. baby blue sprinkled with purty flowers. had to take a few pics to mark the moment. :) i think these are our best photos so far. i would like to take this chance to say, synn has been a fantastic workmate... someone i can count on and with whom i feel confident of taking on the world if we had to. this past week has proven this, which is something i'd known all along anyway. we even have equally precious old bears. we rule. 'nuff said. ;)

happy anniversary, synn and hubba! ***belated because, i slow lah***

after work, the KA came to my office area. i jumped outta my jeans and floral thingy into slipshod gear and flipflops. lugging our blades as well as charles, we went for dinner at... gluttonbay AGAIN. yes, i got hooked on the goddamned thye hong prawn noodles. bought a hugass portion and shared. the KA got some satay thingies, and food was in abundance. we filled ourselves up nicely and had to laze for abit before embarking on our designated activity for the night - blading. chaz went off for his drink appointment and off we trundled to esplanade.

nothing, i repeat, NOTHING could have prepared me for the adventure that i fell into after that. felt a little like alice in a rabbit hole. we bladed in a mundane fashion along the esplanade park at first... which basically led us to kallang. cobblestones were rattling my bones and my cheeks were rather mobile as well.

we got to indoor stadium somehow, dashing across roads and round-abouts and what-have-you's. very dangerous, yes. especially since yours truly cannot even do a t-brake to save her life. but we made it.

here are two friendly snails trying to fight. very high speed excitement.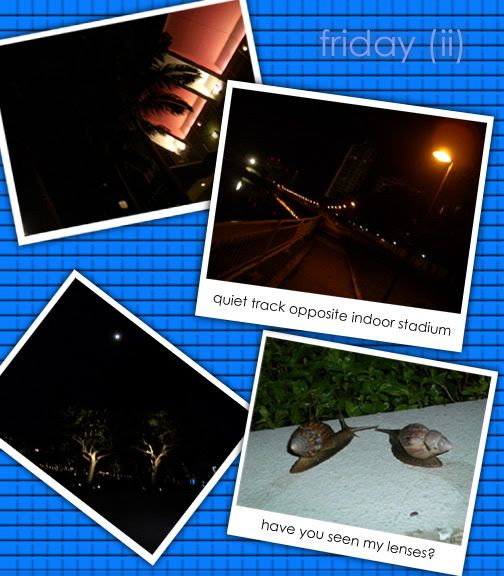 we made it all the way to katong.

about 4 hours, it took. from esplanade to katong. we got lost here and there, i fell once, and we even went past tanks and army personnel who were involved in national day blabla's. we skated on surfaces not meant to be skated on. such as metal gratings, concrete slabs which shift randomly, and other fun stuff. we climbed bridges with long staircases. i was also suddenly forced to remember how to handle steps and drops.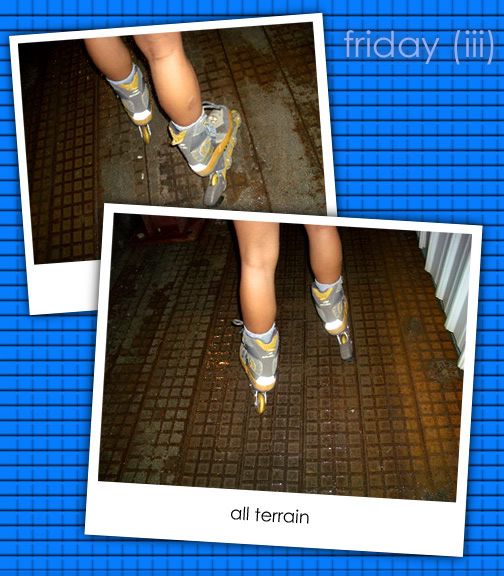 exhilarating. i almost lost my nerves. though hardly because of traffic and danger of being run over (sometimes vehicles zoom by next to us, half an arm's length away). more from the dips and drops in the pathways, steps, and other monsters. cars? pffft. no biggie. :P




the plan was to try and make it to east coast park. we were almost there.... but it started raining. as we skidded our way along east coast road, the KA stopped and pointed, "shall we grab a bite here or further up where there's great yong tau foo and chicken rice?"

i peered at the place she was pointing to right in front of us. a little bar, with a lovely courtyard. no crowds, no drunkards, and a friendly signboard which said something about pie and beer. i rolled right on in without further ado.

it was sheer heaven. i believe this was the first time the KA and i had a beer together right after a blading session. damn... it was good. cider was good. sitting down was good. getting our blades off our feet was good. spending time and talking with the KA is always good. i'm so gonna miss all this when she takes off to foreign lands for her unexpected adventures.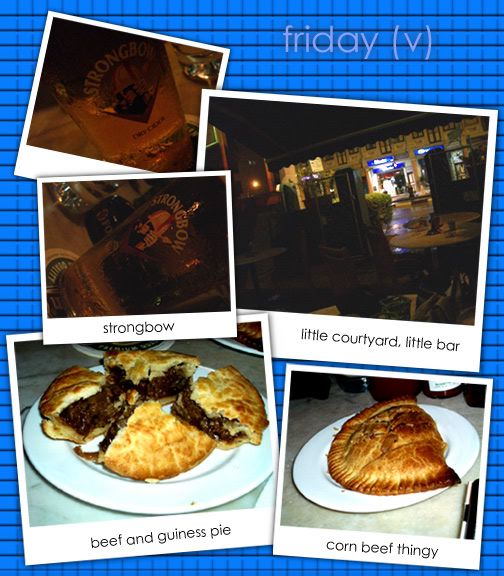 the beef and guiness pie rocked. the corn beef thingy was too dry. it was 15bux for a beer and a pie. a little steep, but in our physical and mental state at the time, it seemed like a great deal. :D

i'd say, it was worth it. not in monetary value, but consider it rental for the comfortably casual, slightly trashed, very homely courtyard where we bummed for a good hour or so. and the cider of course. this will go down in my mind as a very remembered friday. :)

i'm starting to ramble and i know it. i'm even starting to type like i talk. so that's all, folks! sleeptime.