with siang, at balestier.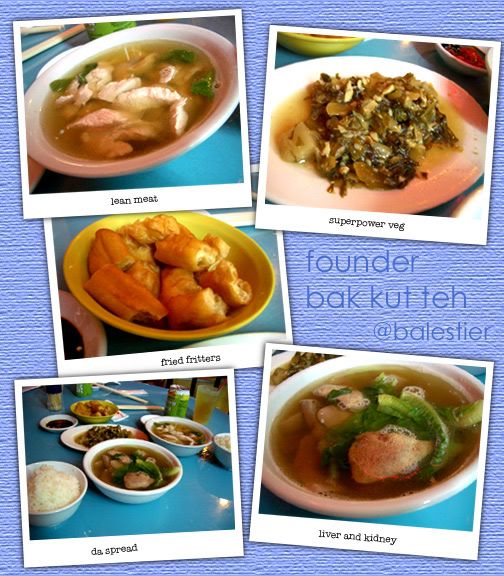 this is his favourite bak kut teh place. i had to taste it for myself and see how it stacks up against the gazillions of bkt places in singapore.
it didn't disappoint. :)
after waiting in the queue for about 20 minutes, we managed to procure a table. quite a good table it was too, the furthest from the bustle and hordes of people walking in and out. due to the popularity of the place, people usually end up sharing tables. we had one lone ranger dude who shared our table.
siang typed out "he looks like a food critic" on his mobile and showed it to me. i kept a straight face as the dude proceeded to take out his notepad and scribble in some funny codes. looked like he had some sorta chart going on. could be the number of minutes spent waiting for his food at this establishment. i was openly peering into the page with mucho curiosity. i guess little girls get away with anything... i wouldn't have done that if i was a boy, and if i did, it wouldn't have been well-received.
dinner was served about 10 minutes after ordering.
lean meat pieces were quite yummy! sure beats wrestling meat on bones and getting food wedged between your teeth with no hope of getting them out unless with dental floss. these meat pieces were quite beautifully cut too. not bad at all... i never knew you could order them like that.
the kidney slices were very clean. no traces of icky stuff you normally find on kidney pieces which ain't prepared properly. liver wasn't as good. some pieces were full of tendons and impossible to bite into. though the rest are nice and tender. abit of a hit and miss.
the pickled vegetables were fuckin excellent! they came with chopped garlic bits... the taste was simply divine. ok, i'm a garlic fan, so.
mr food critic ordered a basic bowl of pork ribs and rice. as he began to eat, i watched him as he took his first bite. hahaha... he actually looked at the ribs and nodded to himself approvingly while chewing away. i must remind myself not to do that when i'm eating. :P i'm sure i do it too. it's just so funny when i see someone doing it.
almost forgot to mention this, the place is wallpapered with fuckloads of photos, showcasing celebrities who have been there to chow on their pork ribs. when i say wallpapered, i mean WALLPAPERED. i mean, it could be marketing bullshit, but hey, they do serve good stuff here.
founder (what a weirdass name), i will be back! :)
feelin':
amused