my early birthday treat, from mel. thursday night. :)
umm... very early indeed. a good one and a half months away!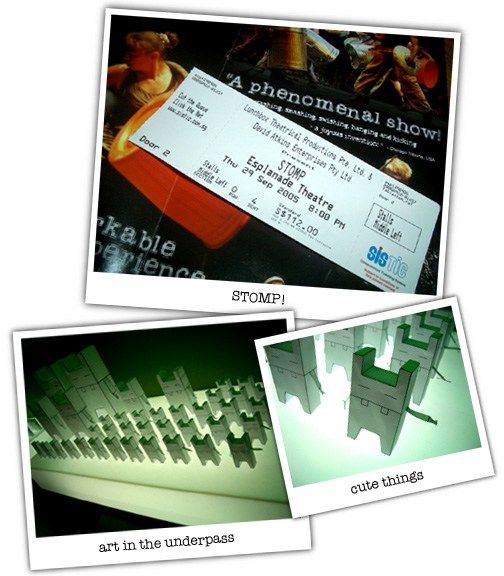 after work, i rushed downstairs to meet mel. we then rushed our way to millenia walk for a rushed yong tau foo dinner (consumed in 10 minutes) which i had no time to photograph, before we rushed over to the esplanade. even had time for a rush to the toilet. and more rushing around because we went to the wrong entry point. :P
after much clickity-clacking from our heels on the polished esplanade floor, we finally sat ourselves down for a fuckin' excellent performance which got everyone under the roof hyped up and captivated. mundane, daily noises fell into place and created thumping, melodious symphonies. visual impact was no less exciting. we laughed, clapped and screamed along as the stellar cast wowed us with what they've got. the leader with the blonde mini-mohawk had everyone clapping along with him on cue, and at the end of it all, our hands were red and sore from the exhilarating participation.
favourite segments are the newspaper readers, the suspended drummers, and the classic dustbin-stompers. the sink-beaters were very fun too! the little guy was super duper funny, the blonde leader dude was confident and charismatic, the g.i. joe was drool-worthy, and the devil-guy with little red horns on his head alternated between satanic glares and comedic pants-pissing antics!
what a thoroughly kickass birthday treat! this has gotta be one of my favourite treats of all time! a million thanks to melissa babe! :)