last friday night with the babes and nicole, for a night of yummy wine and juicy girltalk.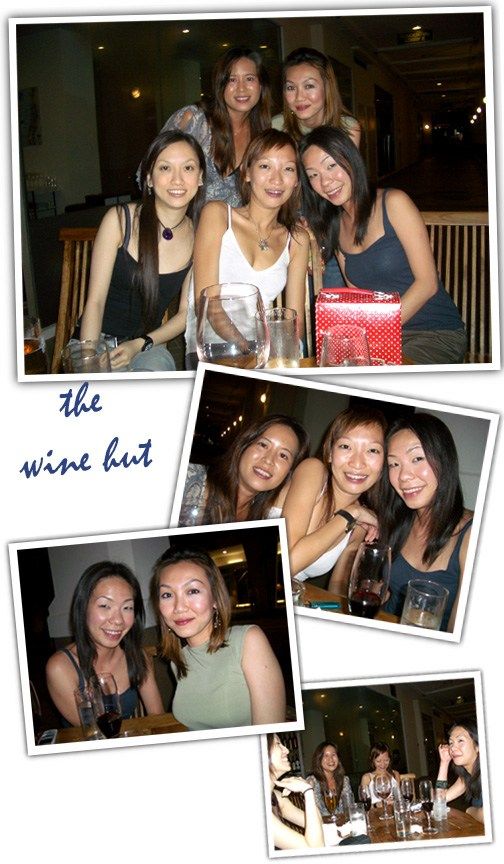 this place came highly recommended by
dishysue, and it sure didn't disappoint!

we had 2 bottles of "sue's sparkling ribena", which was super delicious yet deceptively potent... we were pretty sloshed! i didn't drink as much because my nose went bananas. i suspect i have become allergic to second-hand smoke. my nose was a pretty trashed combination of being blocked and running at the same time. all night. it would start to clear when everyone (well, actually only 2 out of 5 of us present) stopped smoking... but before i can completely recover, the next stick gets lit. and it starts all over again... (that's why i look a little out of it in the photo... heh)

i've been smoking for about 10 years now, and i've never react so violently to second-hand smoke. i have a tendency to stop smoking suddenly. the last time i did it, i stopped for a year. i'm currently in one of these 'stopping phases' now. i didn't plan to quit, and i don't consider myself to have quit smoking... i just don't feel like lighting up, that's all. i will have a stick when i feel like it. and if i still have ciggies, i'll carry them around in a ziplock baggie. sometimes my friends end up finishing my ciggies for me. i've carried the same box of ciggies for months sometimes.

i've even started to put namecards and membership cards into my metal ciggie box. :P

anyway, this wine hut is an ultra lovely place, right opposite the gallery hotel. the interior is really beautiful, very chill and very tastefully done with comfy couches and candles. we didn't sit indoors because we had 2 smokers, but i had a peek inside when i walked through.

outdoor seating was great for people-watching. we had a good view of party people entering or leaving liquid room and sound bar. if you're the sort who hates singapore heat and humidity, i'd say indoors is a better choice.

our brilliant evening was slightly marred by this weirdo prickface of a german (no offense to nice german peeps out there). he'd been drinking alone at another table for awhile, and suddenly decided to come over and sit himself at ours. he told us to ignore him, he just wanted some company instead of sitting alone, so don't talk to him. we were flabbergasted. after awhile, nicole tried to make friendly convo by asking him what his name was. she was rewarded with a rude retort of "don't talk to me, just pretend i'm not here".

wtf?

at this point, nicole, esther and i were eyeballing each other with incredulous looks. raina and mingster came back from the loo, and were like, "hey! who's the new friend?". raina tried to talk to him, and received the same treatment as nicole did. what a dumbass son of a cow.

t'was a good thing he didn't sit his ass at our table earlier and ruin our night. we were about to leave anyway, so we didn't inform the wine hut owner keith about the weirdo. we said our thanks and byes to keith, upped and left without a second glance.

bak kut teh from the 'newish' stall at the junction of mohd sultan was had to round up the night. :) pigged out without a care in the world, and weirdo german person was forgotten quite swiftly. too tired by then to take any pics but the BKT was about average. i'd say founder's @ balestier is still the best. eventually got home at about 4am.

despite my crazy nose and the crazy german, it was an excellent night with my excellent girls. we'll be back for more sparking ribena!