of sun with moon cafe @ wheelock place, wednesday night.

caught up with mingster over a much-anticipated sun with moon dinner. it's going to be abit of a mixed review this time, since it fell short of expectations in some aspects.

booked a very, very nice booth in the other corner from where i sat with the KA the first time. excellent interior design indeed! booths are cosy and intimate, and truly indicative of smart space-planning. plus added advantage of allowing convo's to go on without having to raise your voice. great for whispering sweet nothings in the significant other's ear, or carrying out the juiciest gossip in hushed tones!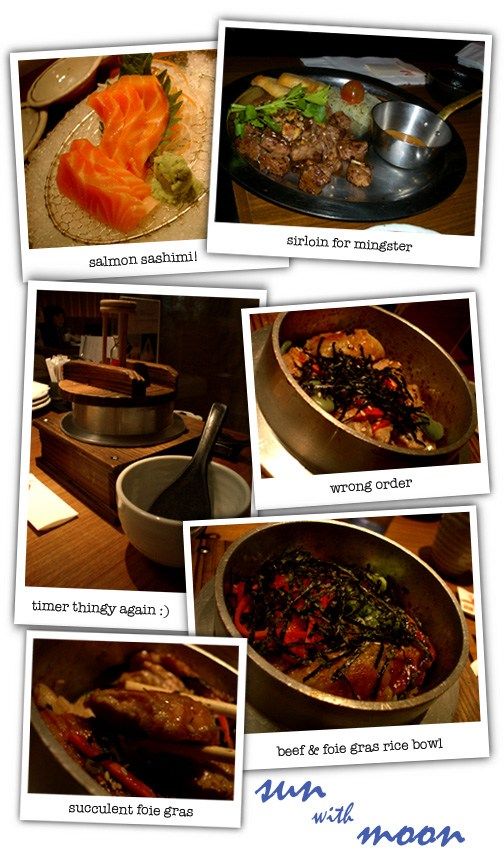 salmon sashimi went down very well. slices were moderately thick, and served very fresh on a bed of crushed ice. mingster's sirloin cubes were really tender... with a cute little pot of sauce which scores on aesthetics. not quite sure what the sauce was, but it tasted not too bad. two pieces of deep-fried bread were super sinful, and drenched in butter. i helped mingster with one piece since the taste could get a bit cloying. the platter was pretty good on the whole, though portions could be a little bigger.

my order of beef & foie gras rice came as something else by mistake (i think it was chicken-ish). so we had to wait a short while for the correction to be made. when the right pot came, it wasn't as hot as a fresh serving should be. beef and foie gras were still very tender, but seemed to pale a little in comparison to the first time i had it. rice was less flavourful than before, with some parts being a little bland. perhaps the seasonings weren't mixed thoroughly this time.

mingster and i were both still quite dissatisfied and decided to order some more. she went for a salad while i decided to have dessert.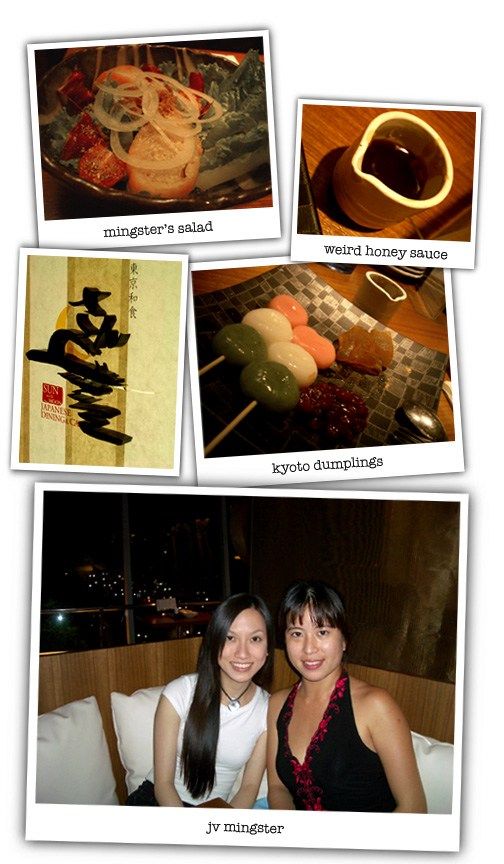 feedback from her on the salad wasn't great (the same fried bread was present in the salad as well). my choice of dessert was the kyoto dumplings (mochi) and yellow bean squares. URGH. it was terrible. the two sticks of mochi, though very pretty, were tasteless (ok, i expected them to be the ones filled with something). red bean paste on the side was yummy (in comparison) and the yellow bean squares were weirdass... they were warm, jello things which tasted mildly of coffee powder. the honey sauce meant for this dish was a strange concoction, which tasted like honey mixed with soy sauce. it was SALTY HONEY, goddammit. URGH and URGH.

we should have gone for that little bird cage dessert that a few tables around us ordered. i think it was cheesecake.

nonetheless, it was still an enjoyable dining experience since i had excellent company and we had a good ketchup sesh. and the lovely atmosphere definitely helped as well. let's see how the next visit turns out.

:)