friday night dinner with an old friend, val darling!

i've been wanting to eat at kazu for yonks. originally booked for jean's welcome home dinner but the silly lass misremembered her landing time. so a long-overdue ketchup with val was had instead. :)

it's skewer-haven @ kazu!




wow, this place is full of japanese peeps! :)

the first thing that hits the table is a bowl of beautiful cabbage leaves, to be dipped in the most yummilicious bean paste mixed with a dash of lemon. this was unexpectedly excellent. it's so simple, yet so delicious!

the foie gras skewer was fantastic. leave your brains at the door because if you're gonna think about how much of your life you're eating away by slurping up succulent, cholesterol-laden liver dripping with oil, then might as well stay at home and eat a piece of bok choy. this really, really rocked. melts in your mouth, no trace of blood, just the right texture.

i ordered the pork with kimchi thinking that it would come in skewers... but ummm it didn't. :P i guess this would be a great dish to have with rice. pork shreds were tender and very richly flavoured with kimchi pieces. quite a generous serving which i couldn't finish (wanted to better use the gastro-space for skewers!)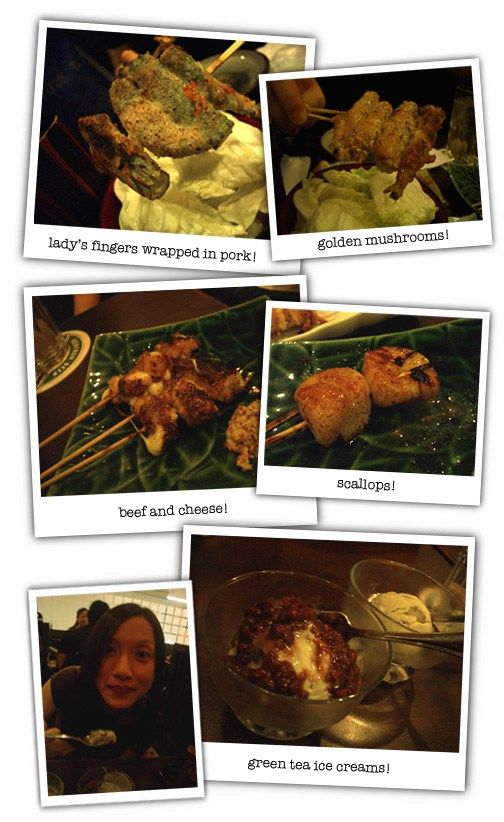 lady's fingers wrapped in paper-thin pork was my absolute favourite! grilled just right to retain the juices in the vegetable, with a layer of pork so thin it's almost invisible. this was heavenly!

tried val's favourite, golden mushrooms wrapped in pork. not too bad, but i prefer the lady's fingers. :)

beef with cheese was very soft and juicy. big, fat scallops were savoury, grilled to golden brown perfection on the outside, tender and juicy on the inside! skewers look like small portions, but they really fill you up very well indeed.

green tea ice creams rocked! nothing like the powdery type you get in most places... this was the right combination of creamy and greentea-ish.

throughout the meal, we had been happily washing down the delicious morsels with gulps of choya+soda. deceptively tasty... boy, was it potent. :D at one point i was trying not to fall off the chair.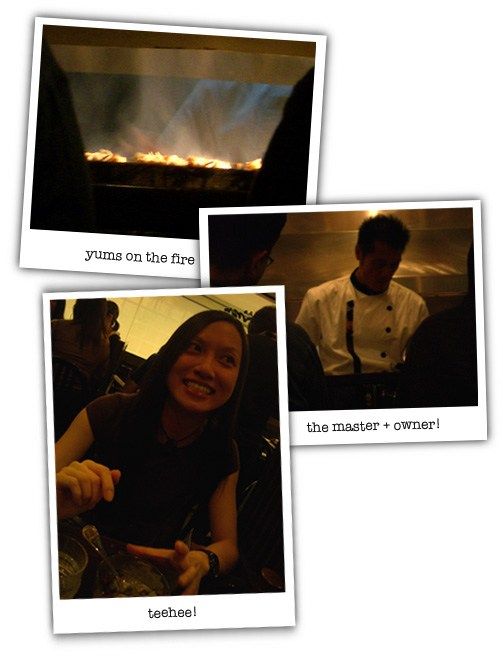 i was also presented with a belated birthday gift, acquired all the way from korea! :)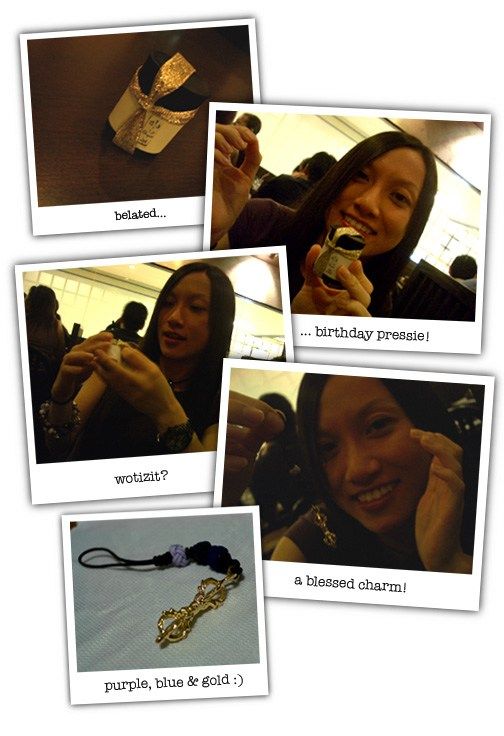 with purple, blue and gold all in one beautiful little blessed charm! thanks darling! :D

here's one obligatory orchard road christmas photo: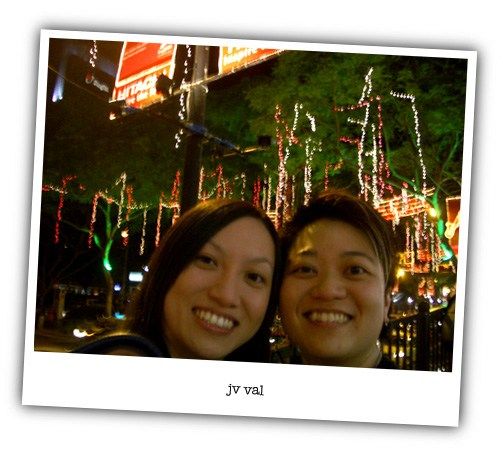 :)