a proper welcome-home dinner last tuesday night with my ex-housemate-babe jean. :)

this place came highly recommended by synn. and rightly so!

service peeps were very on the ball, and superduper polite. we were treated like queens before we were even halfway to our reserved booth. booth seats were suitably cosy, nicely lit in warm tones without being too dark like typical japo restaurants.

the menu was extensive and mindboggling. with intriguing things like mini barbecues with a hugeass leaf instead of an iron grill (the tagline for this was: "Why Leaf Don't Burn?"), and other weird stuff. we decided to fuckit with the mains (deja vu) and have small-ish dishes with plain rice.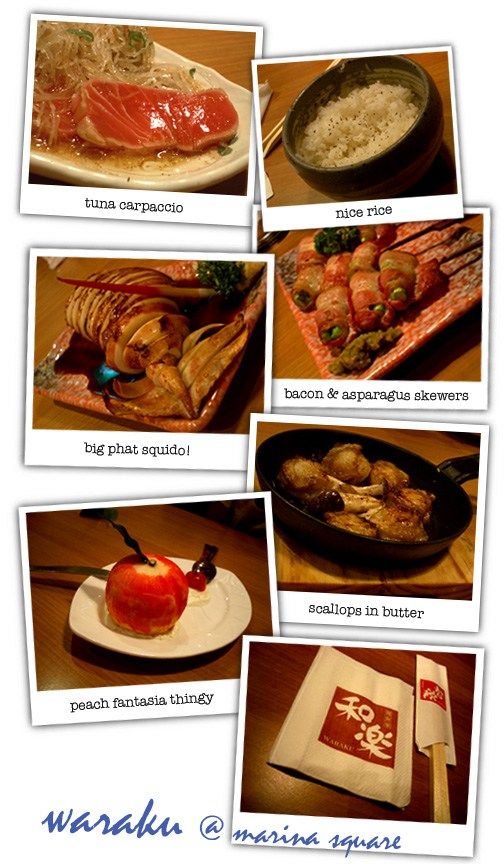 we were off to a fantastic start with the tuna carpaccio. check out how thick and succulent the slices are! pure heaven for carpaccio-freaks. and if you aren't, have a taste of this and you just might turn into one! perfect with a steaming hot bowl of fragrant rice.

you know how some places serve crap rice?

waraku serves nice rice. :) fluffy and sprinkled with tasty seaweedy sesame-ish things.

asparagus wrapped with bacon were very delish too. very full-flavoured, with the savoury bacon and crisp asparagus bringing out the best of each other. t'was a good union indeed!

when the squid came, my jaw dropped. synn had specially made me promise to order the squid (because she knows i'm a squidy-fan). this one is a gargantuan mini-monster! whoopee! drizzled with just the right amount of yummy teriyaki sauce.

six scallops in butter arrived in a very cute little cast-iron pan. these were very rich, fried in a butter-batter which can be cloying if one tries to consume the lot by oneself. t'was a good thing we were sharing. the first one was very satisfying, piping hot and super tender. the second one went down okay... and the third was a bit of a struggle. i eventually de-battered the third before munching it down.

a ciggie break was had before dessert. no, i'm not back at smoking, but i haven't quit either. so a stick with my ex-housie is no biggie. :)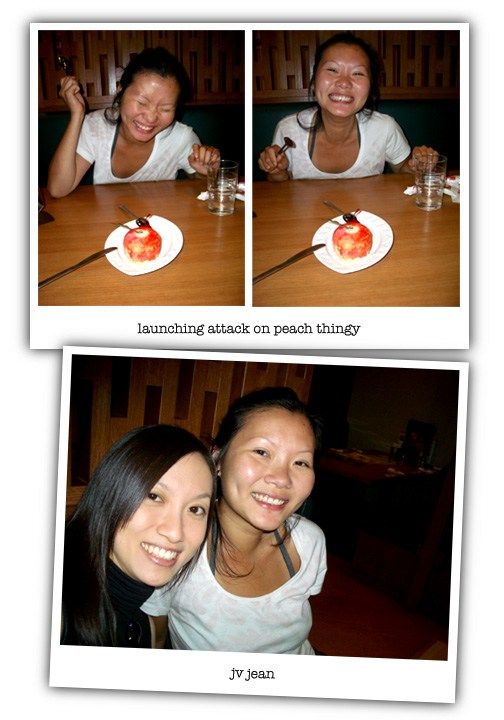 we had a peach thingy with a chocolate centre. it was average. i believe desserts like these are produced in bulk somewhere and supplied to restaurants. nothing to shout about, though it was very pretty.

the entire meal cost approximately half the price of my fish tales dinner the night before. i'd say, waraku is definitely fantastic value for money.

we bade farewell to the nice japo peeps and ambled around marina square for a bit. i guess it was only natural for two chickadees roaming about in a mall to progress into a tiny shopping sesh with whatever remaining shops still open at the hour. :)

t'was a very happy tuesday night.

and yes, waraku will be seeing more of me, i'm sure.

:)