... bi tei @ far east plaza.
what a quaint little japo eatery tucked away on the 4th floor of far east plaza. in all my years of hanging out in this building since i was an angsty teenager 14 years ago, i have never had an inkling of its existence. not a whiff or a sniff.
so i was enlightened, but the first attempt to dine there failed because my colleagues and i were a tad late. the last order is to be made at 9:30pm. we got there at 9:30pm. :P we ended up at kfc because everything was closing...
so anyway. i was determined to give this wasabi tei place a go, and dinner on friday with freddie was arranged thus, instead of our usual fish&co @ park mall. :)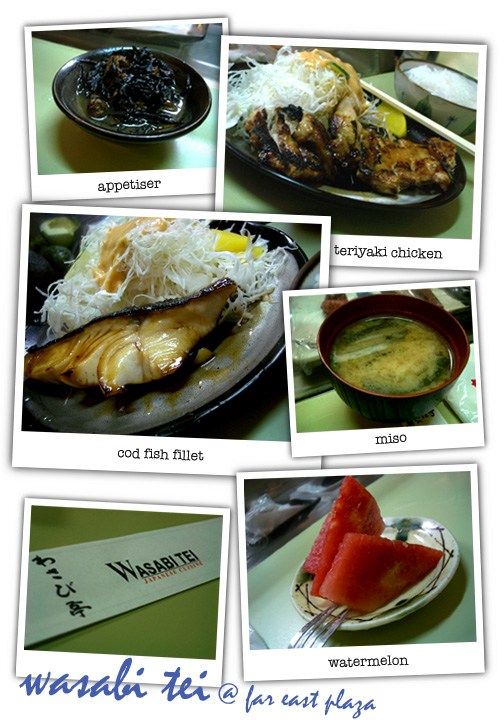 stepping into this tiny quirky place was like leaving singapore behind that narrow door. duck your head under japanese door curtains to scout for a seat around the bar-style table running the perimeter of the eatery. stark, white fluorescent lights provide no-frills illumination, setting it apart from typical warm mood-lighting in most eateries. the decor was simple, the surfaces were faded, the interior was old. i felt as if i was in a wong kar wai movie.
we squeezed past people perched on bar stools all around the long table to reach two empty slots near the corner. service here is very basic. do not expect to be treated like a princess or a king, though they're not exactly rude either. we placed our orders quickly, and were then each served a tiny saucer with the weirdest appetiser i've ever eaten. some black stuff which tasted vaguely seaweedy, with some bits of meat mingled in. i ate most of the meat and left the black things...
our respective mains arrived soon after. freddie's teriyaki chicken was a little too charred. he didn't like it very much. my cod fish was superbly done. a very fresh piece of cod was cooked to tender perfection... quite a good size too. both mains came with a hugeass serving of freshly prepped coleslaw, a bowl of miso and plain rice. miso was slightly too salty, rice was not too bad (though not as fluffy as waraku's), and the coleslaw in abundance was a very nice touch. this makes it a pretty good choice for health nuts.
we yabbered as we ate. the meal was rounded up with a little plate of watermelon each. t'was good watermelon they served. very juicy, not too soggy, very crisp on the palate.
this is not the place to take your time lingering because of its popularity. people who have finished dining will get (politely) shooed off so a coupla hungry people waiting outside the door can scurry in for their meal. but the good thing is, they don't breathe down your neck if you're a slow eater like me. we took our time because we were yabbering away at the same time, and were only (politely) told to give up our seats when i was done slurping up the watermelon.
price?
$15 for the cod fish set. $8 for the teriyaki chicken.
that's fuckin' good value-for-moolah dinner i'd say. what's more, there's the charming old-school nostalgia that money can't buy. :)
feelin':
satisfied