dinner last week, with jean and clarry.

mad jack's is located on bukit timah road, near the police post. i believe it's the same spot where the big apple cafe used to be.

it was raining all day. i think it was probably the start of the rainiest week i have ever seen in singapore. jean and i had been wandering around in town, doing girly things like shopping, collecting clothes from the alteration shop and sending my work heels to the cobbler's, before we were to meet up with clarry for dinner.

fast forward to us in jean's car perched precariously on a slippery, wet slope of the entrance to a carpark at crown centre, bukit timah. the carpark was full. one attempt to reverse the car made us skid further downwards at the looming barrier.

the carpark attendant arrived at the scene and could not lift the barrier via manual operation. boggles the mind. should there not be a back-up system to open the gates, say, if the card-readers got jammed or something? perhaps with a security key or something?

the situation was eased only when a kind gentleman exited the carpark. imagine if no one was leaving till like two hours later. what happens in an emergency then? pffft.

anyways, by the time we parked, we were a tad too late for the japanese dinner clarry had intended for us. we settled for mad jack's instead.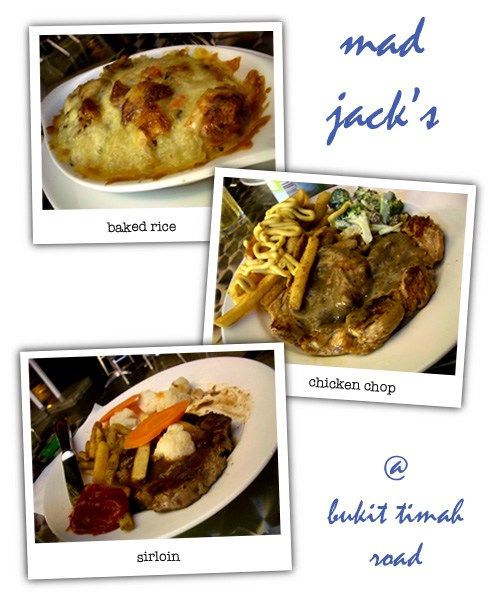 it looked promising. service staff were super friendly. we decided to ignore the notice on the wall saying they needed a new chef, please apply within.

they do indeed need a new chef because the food was terrible. jean's baked rice truly sucked. they used the wrong type of rice and the wrong type of cheese, and overbaked the whole thing till it was way too dry. my chicken chop was drowning in an overly peppery sauce (which provoked my already unsettled tummy into great discomfort). the fries are quite excellent though. but then they decided to charge us $2 to add that cheese sauce (which i think is a little exhorbitant) and the amount of cheese was pathetic. it tasted good though. :P

clarry's steak was just about average.

i guess i will only go back there for the fries. unless they hurry up and hire that new chef.

we had to hunt down some po chai pills for my poor tummy before settling down at cha cha bar for after-dinner drinkies (i had warm water).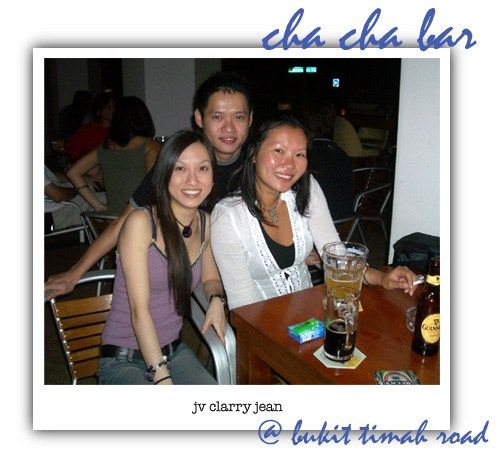 impressive service at this very chill open-air bar. my warm water was kept topped up, and no pressure to buy alkey. and i totally approve of their (albeit singular) toilet. very large, very clean, very well-maintained with ample supplies.

these things do make a difference.

:)