dinner with todd, thursday night.

i have been wanting to eat @ tonkichi for the longest time. that one work lunch with some translation peeps did not count (although i did have a very satisfactory and extremely elaborate bento set), since i didn't get to snap any peektures or take any mental notes.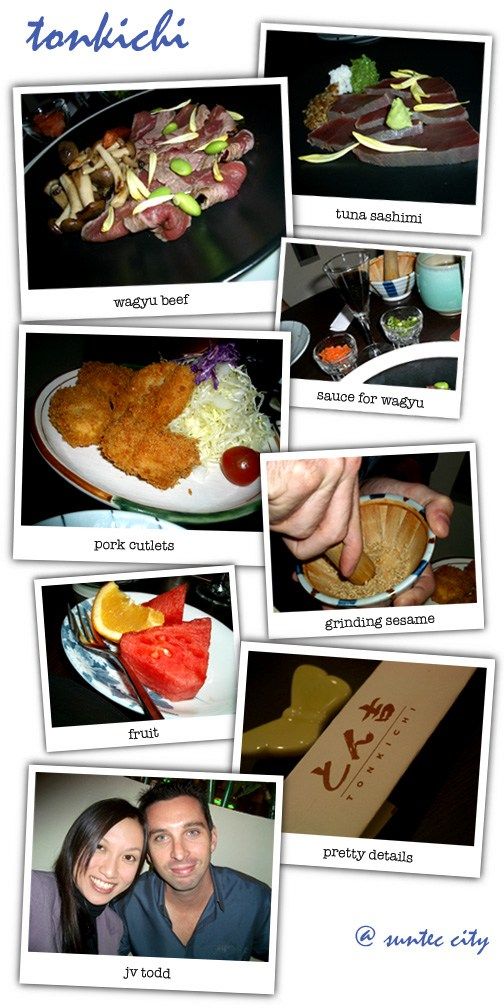 we sat in one of those circular booths that i have been wanting to sit in since i set my eyes on them. this is such a perfect size, with slits through the walls so peeking into the next table to see what other people are eating is easy yet discreet. service is good, although slight waiting may be required on a busy night.

tuna sashimi slices were fabulously fresh! these were probably the prettiest tuna slices i've ever seen or put into my tum, evenly coloured in a deep rich red hue. not sure if the petals were meant for consumption. didn't try. :P

which reminds me of a story about eating flowers at a swanky dinner... but this involves the ambassador of peru so maybe i won't tell it. :)

so anyways, my wagyu beef slices were very tender and very succulent. soy sauce for dipping came in a small sort of flute glass, which was quite a novelty. portions can be bigger though. plain rice to go along was nice and fluffy. stole a few bites from todd's pork cutlet dish, which was tasty but might be better in thinner slices. the large chunks were a little overwhelming, though the pork had a very good texture and the batter was super-crispy.

the bowl of sesame seeds provided was to be grinded and mixed with sauce to dip the pork in.

didn't get around to trying the strawberry liqueur synn was raving about... maybe next time! :) yes, tonkichi will see me again!