a week ago, the karen ann and i had planned to go rollerblading. we've been slobs and have not made it to east coast for the longestass'd time. alas, it began to pour at 6pm saturday evening and refused to let up. we ended up veging at my place yabbering about everything. at 10pm, i declared hunger and we made the trek to the nearby town centre.

i'd been wanting to eat cheese fries and kfc does not have cheese fries on their home-delivery menu. i asked if i could order normal fries and request to buy a tub of cheese sauce from them. the answer was a resounding NO. singaporeans need to learn to be more flexible.

so we had to visit the nearest kfc in person(s).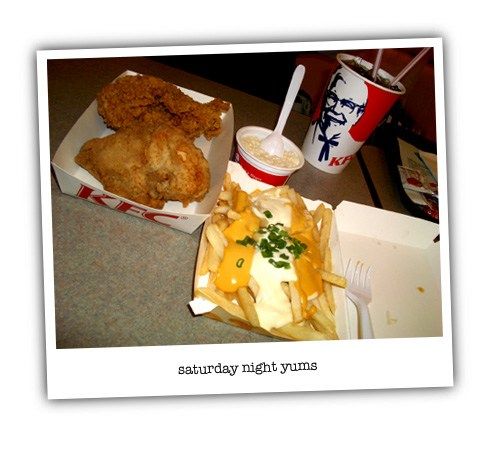 anyways, kfc chicken is kfc chicken, and cheese fries are cheese fries. so not much to say about that. :)

when that was done, we proceeded to terrorise the local 7-11. i believe we spent a good half hour in there? i also had me a lime-split ice cream which mingster was blogging about recently. :D very satisfying indeed.

wonder why the KA and i always seem to end up in fast food outlets. perhaps we feed off each other's junk food affinities. junk food junkies amplified when in contact.