the one @ suntec city, to be precise.
i was curious to see if there'd be a difference between this outlet and the one i usually go to next to park mall. besides, this is a spanking new outlet (they used to be tucked away in a dark corner kinda under escalators) and posh, clean decor. and i was craving garlic butter. so, we gave it a shot.
wrapped up work real quick and rushed downstairs to meet mingster. as we waited for tellie and linda to join us, we tried to get ourselves one of the cosier tables at the side, instead of the 'free-floating' ones in the middle. the staff were uber polite, much like their flagship outlet, and even though there was some confusion, it was sorted real quick and we were soon flopped in a lovely booth with comfy seats.
our dinner companions were held up and had to reschedule, so we had a thorough (and thoroughly enjoyable) ketchup sesh instead. :)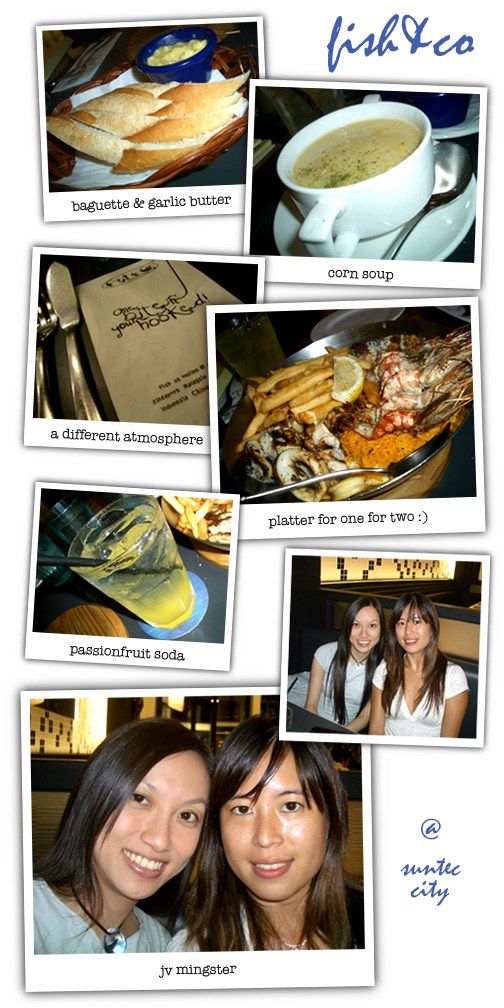 the park mall outlet still wins hands down. that said, it wasn't that this branch sucked, it's just that the park mall outlet rocks. let's start with the baguette. everyone who has been to fish & co with me know that this is my favourite item on the menu. i'm not that big on bread, but i absolutely love garlic butter. the baguette served at the suntec outlet is comparable to that of the park mall outlet, but the garlic butter is slightly less tasty. perhaps made with unsalted butter? i can only guess.
cream of corn was a delightful soup of the day. one small thing i noticed that it wasn't piping hot when it came, it was kinda warm-ish. which means, it went cold quite fast. otherwise, generous corn kernels were very yummy to munch on.
as usual, we had a seafood platter for one to share. the biggest disappointments were the prawns. overcooked, stuck to the skin, not quite satisfying. squid rings were not bad, although they were the ugliest ones i have ever seen at a fish & co - the batter was uneven and very dark brown, almost burnt (but tasted fine). rice with raisins was flavourful and up to standard. chips were not quite crispy enough. ooops, i think i forgot to eat any of the fish fillet...
now, bear in mind that i have been spoilt by the high standards set by the outlet at park mall, so my description of this platter may be a little harsh. i have a very fixed idea of how this platter should taste, so don't mind me.
:)
feelin':
busy