@ esplanade, was where we decided to attack for our chinese new year girly-gathering.

despite some confusion with our orders (eight girls can order a lot of stuff... and in the most disorganised manner imaginable :P), sending us the wrong stuff, sending us too many of the same things, or forgetting a coupla orders here and there, we still had a pretty good time. it must have been a nightmare serving us. :)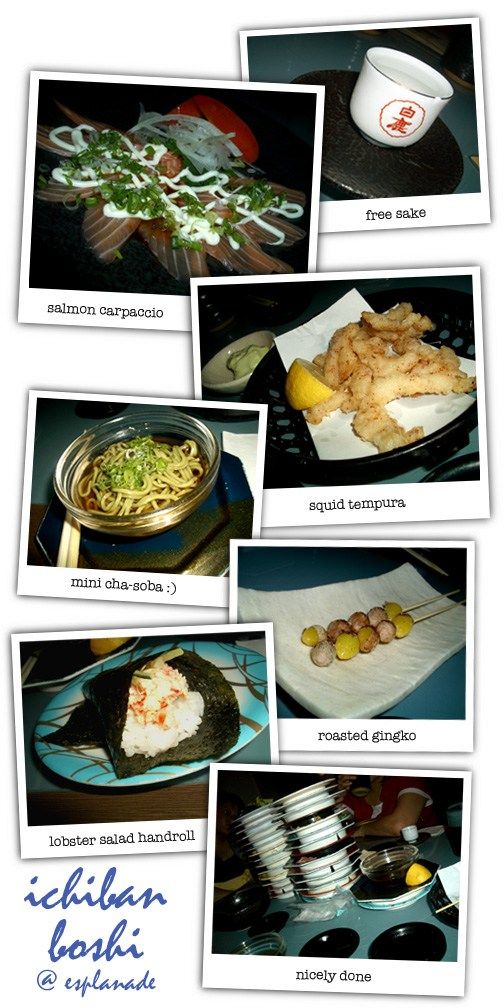 two of my choices were the salmon carpaccio and ika tempura, which are on a special menu available at the esplanade outlet only. a free cup of sake came with the salmon, which i offered to the girls since i have no love for sake. salmon carpaccio was fantastic - thin melt-in-your-mouth slices of fresh salmon with a mildly spicy sauce, sinfully rich mayonnaise and a generous amount of chives. ika tempura was just above-average. i think it lost points for not being super-crispy like i expected. nonetheless, the flavour was still good and the wasabi mayonnaise that came with it was quite delightful.

i changed my order of plain rice to a mini cha-soba after watching laura's portion arrive. besides, i had initially ordered the rice to go with the salmon and the squid, and both dishes were already in my tummy with no sign of the rice arriving. t'was a good decision indeed! the mini cha-soba is great because there'll be room for the gazillions of stuff due to arrive, unlike a full-size portion. i think this is the smart way to eat in a japanese place where there's so much good stuff to chomp on and so little tummy space. :)

roasted gingko nuts came as a mistake and i took in one stick because it looked so good. crystals of salt were sprinkled over warm, aromatic gingko nuts and they looked simply irresistible. however, the bitter centre cores of the gingko nuts had not been removed and this marred the taste greatly.

to round up my meal, my final dish was a lobster salad handroll. excellent, except that the seaweed had gotten a little soggy due to confusion with the orders and the handroll was shuttled around for a bit. one other minor point to make is that they were a little heavy-handed on the wasabi.

i considered ordering a bacon&asparagus skewer but my tummy told me there was no vacancy left and we'd both regret it if i succumb to greed.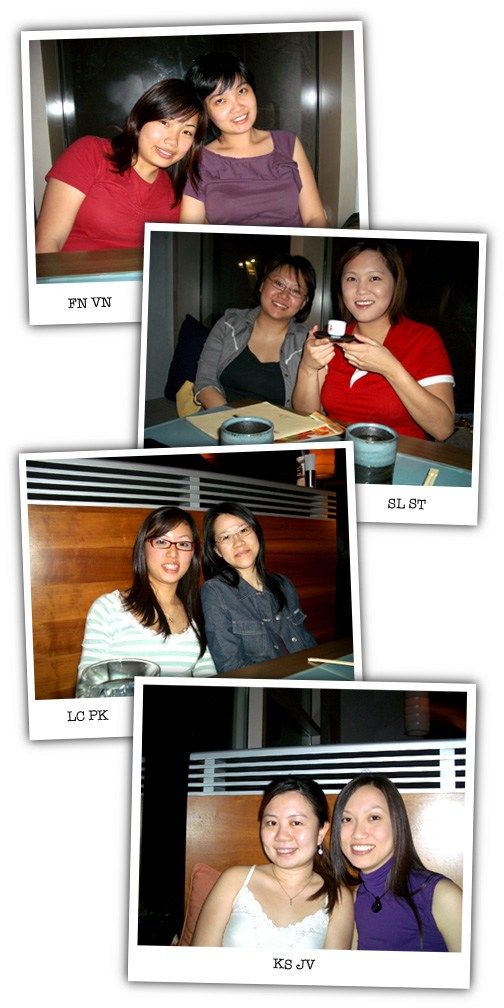 after our very satisfying meal, we trooped on outside to catch the fireworks. :)




may this year be the start of many good things for my babes and everyone who believes in us.

:)