the friday before last was my first day of leave. the plan was to wake up real early and do a spot of shopping in johor bahru with mingster.

both of us ended up sleeping late the night before, doing our own silly things. :P i was horrendously late, and mingster was pretty tired because she actually woke up and was on time. finally, i arrived at the bus stop and we hopped on the bus to jb.

as we neared the singapore customs, mingster gasped in horror, "OMG, i forgot my passport!"

we had a good laugh about it as we turned back around. she suggested having breakfast at this french cafe she blogged about recently, and it was an excellent alternative plan indeed!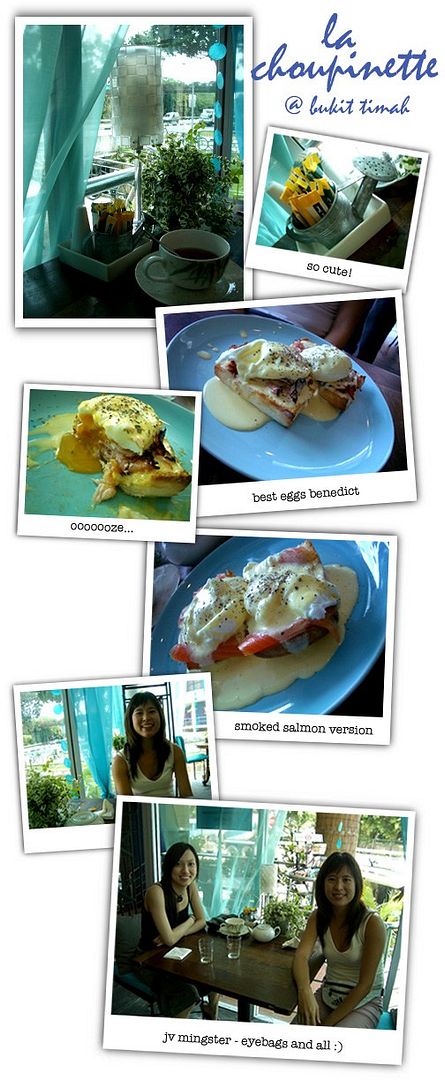 BEST EGGS BENEDICT EVER!

this was so soooo good! :) the place itself was a charming little spot which transports you out of singapore instantly. service was prompt and friendly. and the food - WOW. mingster and i ordered two different types so we could swop around. i must say, both are really, really fuckin' fabulous breakfast choices. eggs are poached perfectly, salmon and ham slices tender and savoury, and the toast below wonderfully yummy. the serving is a little full on for girls... i left half of my second toast behind. i reckon a good plan next time will be to share one plate of eggs benedict and another something smaller on the other menus (which i didn't explore much because i was too enamoured by the eggs benedict menu).

S$17++ gets you a set of eggs benedict, a hot drink (tea or coffee) and a glass of juice. :)

this is definitely one of my favouritest brekkie spots now.