i'm tired. again. i feel like i ran through a wall.

yesterday was the hardestcore of saturdays for me. i woke up at 630am to get ready for my health screening in johor bahru. met mabel at 745am at raffles place, and went to join the group at her office nearby. the coach bus left at 830am. by 10am we were in malaysia, and by 11am we were sitting in the lab getting our blood samples taken. after that, we were treated to a buffet lunch at pan pacific, and a spot of shopping at city square. i thought i was gonna get heatstroke from all the walking around in the scorching sun. is it me or is malaysia twice as hot as singapore? goddamnit. i thought my brains were gonna fry. at 230pm we finally set off for singapore, and by the time i got home it was almost 4pm. i tried to rest with no success, and had to start getting ready for a wedding dinner at ritz carlton. my head was starting to pound, probably from the sun and the long bus-hours. popped two panadol actifasts and went on my way. it turned out i was the earliest to arrive and had to wait for my babes... my surroundings were starting to turn swoony around that time. i managed to last till 10pm, which was about four courses into the dinner. almost passed out during the video presentation, luckily i didn't fall off the chair. so i packed myself off into a cab and zoomed home.

slept about 12 hours today and my head feels like a brick.

anyways, my photographs are piling up again and i think i will try and post a few tonight. starting from where i left off last...

will be keeping things brief here.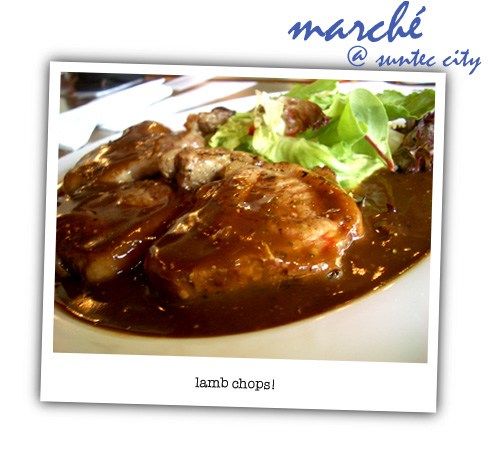 marche still does a mean lamb chop! i used to be a big fan of lamb chops served up at their heeren outlet, and have stopped for awhile. they used to use a more generous cut with more meat and less tendons, and i stopped when they changed. not sure why i decided to give it a chance again but it was still melt-in-your-mouth goodness! a tad pricey - S$15.50 for three slices and not a lot of meat, but still very yummy.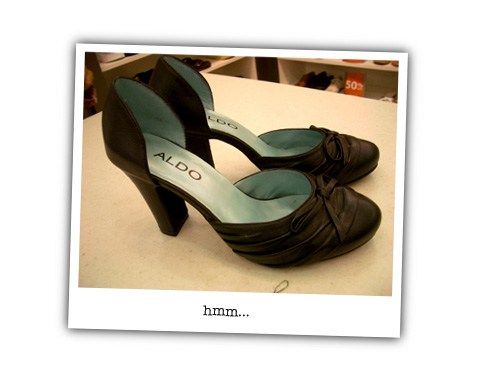 and these are the shoes i didn't buy. i loved the front part, but hesitated because the heel didn't quite appeal to me (i think it was a little matron-ish). i asked if i could take a photo of them to show my friends, and the salesgirl serving me said ok. after i snapped the pic, another salesgirl came up and said, "actually, we can't let you do that". she didn't seem quite sure of herself and i switched into my incredulous bitch-mode.

"if you need to clear this with someone, call them now and i'll speak to them"

so she did, but i didn't even have to talk to anyone. after about 20 seconds on the phone, she meekly told me, it was all ok. and she couldn't look me in the eye throughout the entire incident.

what is it with singapore and inflexibility?