it was 22nd of june and ferlyn's last day in the office with us. :[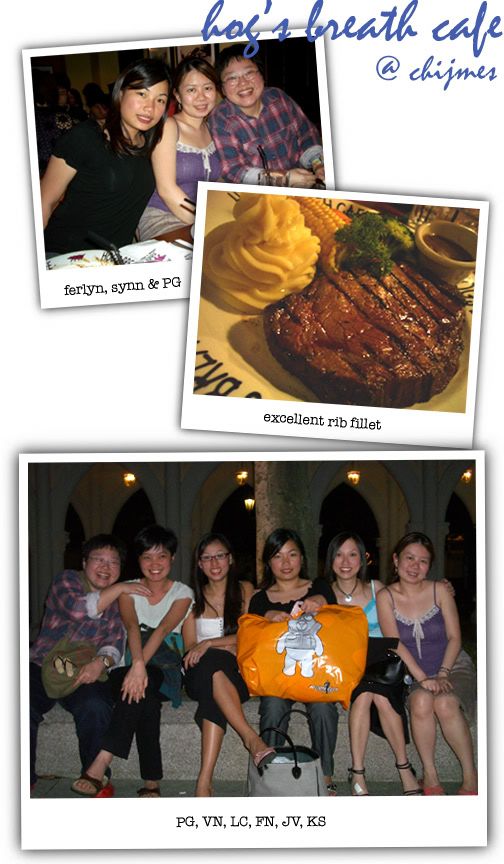 ferlyn was a god-send to the company. she re-organised a rather messy department single-handedly, and put some much-needed order into their operations. i found a load lifted off my shoulders as well, even though we were in different departments, because i was keeping an eye on things which would affect my team if they got out of hand. so ferlyn came along, and everything fell into place. this bubbly, beautiful babe with a heart of gold also brought a lot of cheer to the office and was a joy to have around.

so, a bunch of us had a farewell dinner with her at hog's breath cafe, chijmes. the steak was awesome! i must admit, i wasn't expecting much because of the recent disappointment at surf & turf... but this piece of meat was really tender and juicy. it was a hugeass portion too! that makes sense, since hog's breath is from australia. :) mash potatoes came in a pretty swirl and tasted like it was home-made in someone's kitchen. it was good mash.

those peeps who miss drinking lemon lime and bitters, get your fix here! :)

the ventilation isn't quite sufficient though, and we were slightly suffocating towards the end of a coupla hours in the booth. the (very) warm lights didn't help either.

the night ended with our goodbyes and well wishes to a wonderful colleague and friend. i'm glad you're moving on to your next chapter in your career... the office is definitely lacking in cheer now that you're gone. i'm definitely missing your visits to our section and that lovely smile. :)

all the best, babe! kick ass, wherever you go!