earlier this year, i suddenly discovered the joys of eating 'yong tau foo'. this literally translates into 'stuffed tofu', but the strange thing is, tofu is only one of the many types of things they stuff in this dish. :) common items are lady's fingers (my favourite), bittergourd slices, chillies, eggplant slices, mushrooms, fishballs, fishcakes, green leafy vegetables and a mindboggling collection of tofu in various forms. stuffings vary from place to place. they can be made from either plain fish paste, or a mixture of fish paste and minced meat (this rocks).

simply pick your desired items from the trays, and present them to your friendly 'yong tau foo' person for preparation. you can choose to have rice or noodles with your selected items, which can be served with soup or without.

seems very vegetarian doesn't it?

there's a great explanation of this dish [right here].

it's great way to detox. just avoid the fried items! (although the fried items are very yummy) :P

some time ago, i was on a day trip to kuala lumpur. an old friend, lokey, took me out for some kickass 'yong tau foo', done hakka style.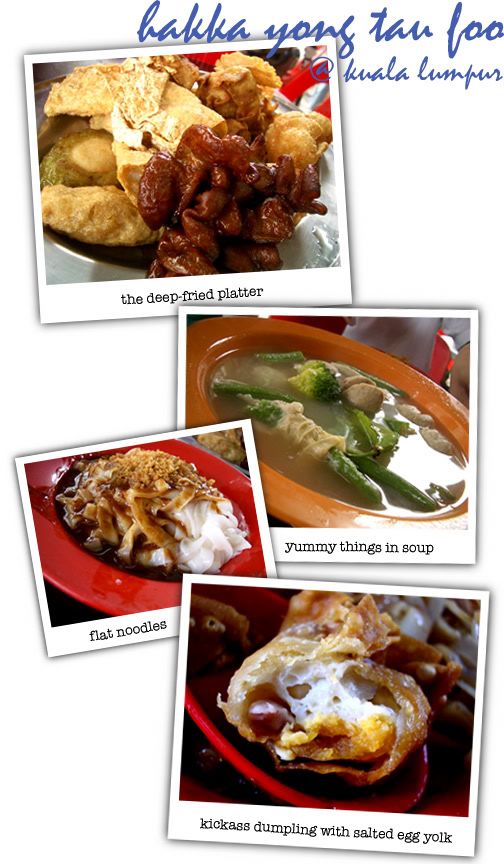 everything was really fresh. broth was very tasty and the very delicate noodles were drenched in heavenly sauce. that wasn't all. lokey had insisted we grab some of these dumplings filled with fish paste and salted egg yolk. these were sinfully fantastic! the other note-worthy items were the deep-fried intestines - crispy on the outside, bursting with juices and flavour on the inside.

t'was a real pity i only got to eat this wonderful meal in KL and was too tired for dinner or supper. lokey tells me the food there is pretty darn good and there's too much yumminess i've yet to munch on! but have no fear, i will be back up there for more food missons! :)