this is my very first tag baking session with
vanessafrida
. :)
i've not baked for awhile now, not since my
[cranberry oatmeal adventures]
back in february and
[its sequel]
in march. :)
some time last week, i spotted a recipe for nutella cookies in one of the communities. ness is one babe who loves baking passionately. so, i sent her the link and prodded her to do it. she proceeded to
[tag me in return]
, and that is what we did this weekend. :)
so, the idea is to use the same recipe and make our own cookies, then post our entries at the same time to see how we each interpreted it.

these were the simplest ingredients ever. only three things required: self-raising flour, an egg and nutella. ignore the kitchen scales in the background, i didn't end up using it because the amounts called for were in volume instead of weight. *blonde moment*
half a cup of nutella turned out to be just about the entire jar of 220g. i was measuring it out by the tablespoon method (8 tablespoons = half a cup) and it was rather tricky. nutella sticks to everything like nobody's business and i was scooping out heaped tablespoons to make up for the big globs stuck on the spoon.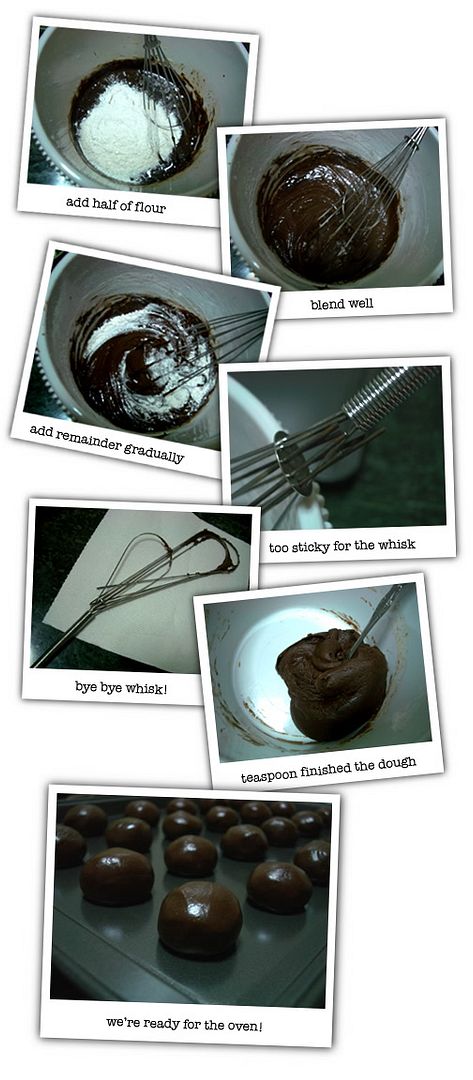 blending nutella with the beaten egg had been relatively easy, so i wasn't at all prepared for the agony that was about to start. half the flour was poured in to be blended and that was sheer torture for my hand and my poor whisk. it was pretty darn thick and stubborn like a few hundred donkeys rooted to the ground refusing to budge. just as i was wishing i had cracked out my electric mixer, it gave way (i mean the whisk, not my hand) and basically self-destructed. hence presented another dilemma... at this point i had already blended in most of the flour in stages, with only 3 more blends to go.
so armed with a teaspoon, i went for it. and almost killed my right hand. after immense friction and force resulting in a sore and raw right palm, the dough was finally done. phew.
now, i didnt't want to use my hands because the dough was becoming a rather nice, not-so-sticky consistency and i didn't want it all to melt down again. i must say, rolling these nutella balls were very much less messy than shaping my cranny-oatmeal balls.

after letting them bake for 10 minutes in the oven, i decided against adding 2 more optional minutes because i was starting to wonder if they might get burnt. after all, the dough did seem much drier than what i've been used to, and the nutella balls have already gotten some rather nice, deep cracks.
on hindsight, i probably should have gone for the 2 extra minutes because they weren't as crispy on the inside as the outside. but on the other hand, it also worked out okay because if they were totally crispy, they would have been even more of a bitch to cut in half for the nutella filling! man, just when i thought the hardest part was over, cutting them in half turned out to be the incredible feat of the night. after a few Total-Crumbles, i found out that an easier way was to follow the cracks and pop open a little lid on each one, carve out the middle to make a little hole, and fill that up with nutella before popping the lid back on. that also made the nutella ooze out less and created less mess (especially for storage).
here's the
[recipe]
if anyone's interested to give it a shot. :)
the recipe above is supposed to make 9 cookies, but i think that's a load of bullshit. :P they would be 9 huge motherfuckers the size of toasts! if i were to make these again, i think i'd use 2 eggs instead of one, and add a few drops of vanilla extract to the dough. or perhaps explore the option of using a different dough altogether without using nutella as a base, so that it isn't so overwhelmingly chocolate.
i haven't had a whole one yet because of stitches in my mouth, and my senses were a little skewed because i'd been sniffing the thick chocolate scent all evening (so it tasted a little too chocolatey to me... bearing in mind that i only like chocolate in small amounts) but my brother loves it. :)
here is the
[link]
to ness's entry. :)
this was so much fun to do! tag baking rocks... we've gotta do this on a regular basis, babe! :)
feelin':
excited