i hope everyone realises by now that i'm whipping out all the backlog i've chalked up in the past few weeks/months, and i'm currently still extremely unable to chew very well. :) there are at least 7 more entries to go before i catch up to present time, so hang on to your panties!
many weeks ago, i spent a wonderful shopping day with one of my oldest galpals, nicole. nic, kalla boo and i have been firm friends since we were 13. i hadn't seen her much for many months, so it was great to finally catch up. it was also a brilliant sunday of retail therapy for us and we hauled along an impressive loot each. famished and tired, we decided to check out the newly refurbished newton food centre.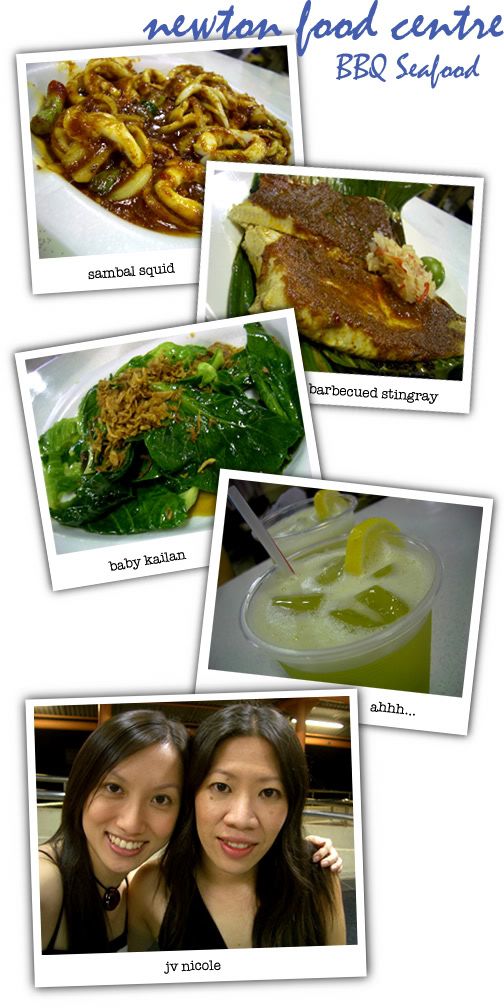 i do not like the new newton food centre very much. :[ what a terrible design layout! man, it not only seems like it's shrunk, the horseshoe layout traps hot air within and keeps the breeze out. with all the extra illumination, the seating area surrounded by a fence of food stalls felt like an open-air sauna with dining options. even though the old layout was a little messy and wasn't aesthetically pleasing, it was at least comfortable with ample tables and seats which were spread out over what seemed like a bigger area. it probably wasn't any bigger than it is now, but that's what poor design can do to a hapless food centre.
the saving grace was, food is still good there. we ate from one of the numerous barbecued seafood stalls, and promptly forgot the name of the stall. heh. it was a blue signboard which said either 'A5' or 'A9', if that helps. :P i need to get myself into the habit of snapping the signboards... i'm getting senile.
young ladies intending to have a meal there, beware of sleazy seafood servers who may attempt to hit on you as you dig into the food (even if you're totally engrossed in filling your tummy and yabbering to your girlfriend).
o.o
feelin':
sleepy