after having so much fun during our [first tag baking],
vanessafrida stirred up some public interest and [got a few people] in to join in our second tag baking this week. :)

so the theme this time is: muffins.

ness chose a really flexible recipe so everyone can tweak it any way they want it. which was really bad for me because i baffle myself when there are too many possibilities! :) buying ingredients was a half a nightmare because i couldn't find dried strawberries and had an internal struggle to decide if i should use dried cranberries or fresh blueberries or dried blueberries or maybe even a savoury one... you get the picture.

i was also intending to use sour cream because i read somewhere that it helps to make creamy muffins taste really light. but the darn supermarket had sold out of sour cream and i bought pure cream instead. i also found out when i got home that we'd run out of eggs, so i had to do another mission to the shops!

finally, after a whole string of unfortunate events involving ingredient-gathering, i could finally get to work.

ness's original recipe is [here], from which i adapted into the following:

Strawberries & Cream Muffins

Ingredients:
1 1/2 cups flour
3/4 cup sugar
2 teaspoon baking powder
1/2 teaspoon salt
3/4 cup cream
1/2 cup milk
1/4 cup oil
1 egg
1 cup diced strawberries
1/2 cup rolled oats
3/4 cup white chocolate chips
1 teaspoon pure vanilla extract

Method:

1. Heat oven to 400F/ 200C
2. Grease 12 mini muffin cups, and line 6 standard muffin cups.
3. Combine dry ingredients (excluding strawberries).
4. Combine wet ingredients.
5. Add strawberries to dry ingredients mix and coat well.
6. Add wet mixture into dry mixture bit by bit.
7. Spoon batter into muffin cups, filling about 2/3 full.
8. Bake for 18-20 minutes.




the strawberries were diced, dried lightly on a kitchen towel and chilled so that they don't bleed too much later. i decided to add some oatmeal for more texture (but on hindsight, i think half a cup is too little). i've also read somewhere that coating fresh fruit bits in flour with the dry mixture prevents them from sinking in the muffins. but i decided to do this step later so that the berries don't thaw and glug up the flour too much.





next, the wet stuff are combined. some mishap happened here because i did intend to use a full cup of cream, but it turned out short. so i added half a cup of milk to top it up, because i also realised that cream might be less liquified than what is required. so after some consideration, in went the milk. then i wondered if it would be too much liquid. now, this is the first time i'm making muffins and i have no idea how the final batter is supposed to look. how wet is it supposed to be?





so anyways, i trudged on. berries were carefully coated before starting to mix the wet stuff into the dry stuff. i really tried really hard not to stir the batter too much (really really really) since according to research, the muffins turn out tough if you do that. but it's pretty difficult not to stir too much while trying to mix them up aye? tricky shit.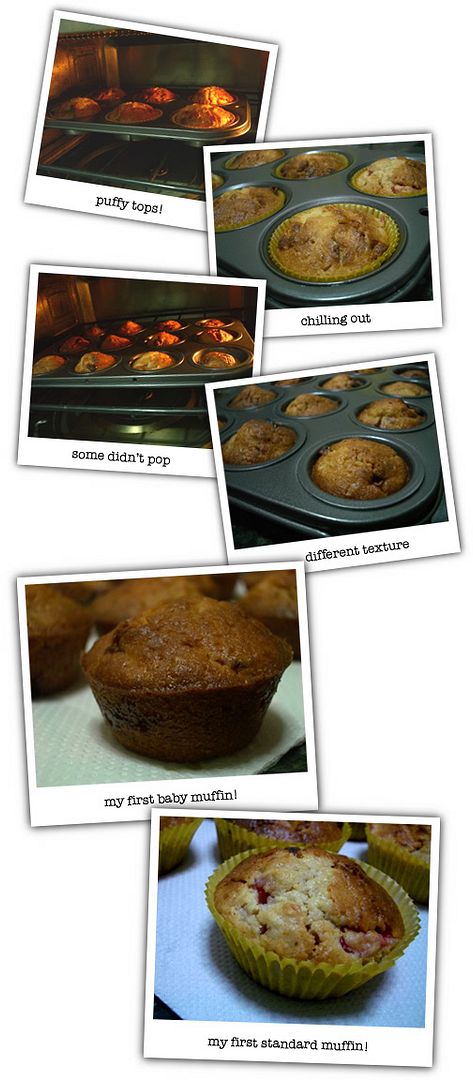 and i'm not sure why the same batter yielded two different textures but it might have something to do with the fact that the mini muffins had to sit there and wait for their turn in the oven. combined with the fact that i baked them for almost the same time period as their big brothers and left them sitting in the oven for a few minutes after they were done. quite interesting how they look like they were made from a different batter altogether.

mother approves. she has requested for 30 mini muffins for her to bring to her choir session.

:)

changes i might make to the recipe are:

1/2 cup of sugar instead of 3/4 cup.
1 cup of white chocolate chips instead of 1/2 cup.
1 cup of rolled oats instead of 1/2 cup.
1 cup of sour cream OR 1 cup of milk instead of 3/4 pure cream and 1/2 cup of milk.

check out:

1.
vanessafrida's [entry].
2.
princess_toria's [entry].
3.
brightandnew's [entry].

yes, it was very good fun! can i request for the tag baking entries to be posted on monday mornings instead? everyone can bake ahead of time if they wish to, but baking during the work week was pretty challenging for me! it was still a whole lot of fun though. :)

so, what's next?