dinner with
vanessafrida
, at her recommendation: kuriya @ shaw centre. :)
tucked away in a quiet corner on the 5th floor of shaw centre, this little gem of a restaurant has just been renovated recently, according to ness. despite it looking more 'commercialised' now (we wondered if the quality of food had been affected), i wasn't disappointed. :)
nice little japanese restaurants ought to remain looking as authentic as possible. so if any nice little japanese restaurant-owners happen to read this, please take note. don't fix what ain't broken. a charming little eatery transformed into a clean, lean money-machine may not draw the same crowds as before.
luckily for kuriya, they still serve great food...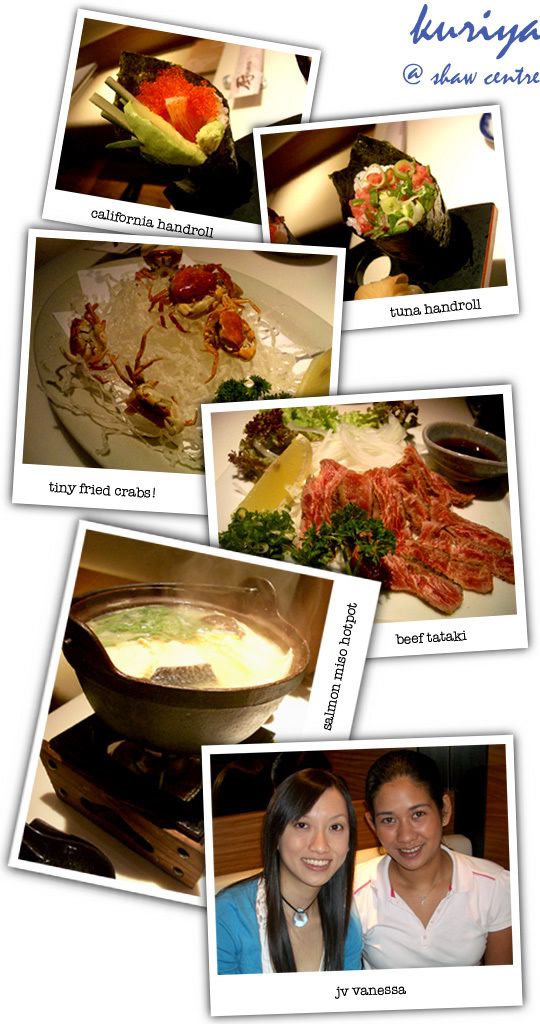 i ordered some of my 'benchmark' items - handrolls and a raw beef dish. the handrolls were pretty darn excellent, just a notch above ichiban boshi which does a kickass salmon avocado handroll. minor minus points for not having that on the menu and not being able to provide customisation of handroll either. big, fat plus points for super-generous fillings in my california and tuna handrolls. very fresh ingredients (the biggest glob of roe i've ever seen on a handroll) which are spread throughout the handroll from the top of the cone right down to the bottom tip. two thumbs up for these. now, if they'll just add salmon avocado to the handroll menu, i'd float up to handroll heaven.
beef (gyu) tataki arrived looking promising but had to be ignored for a short while because i was suddenly very distracted by the teensy weensy deep-fried river crabs! these babies are not listed on the menu - they're only ordered by people in the know, and are subject to availability as well. ness says that the mini crabbies are flown in and stay alive all the way in the restaurant kitchen till they are ummm required on the dining table.
they were seriously cute. i can't get over how cute they were. :) each tiny crab had a body the size of half my thumb. ness showed me the way to eat them - pick off their legs and nibble them one by one, then pick the eyes off to eat if you wish, if not you can pop the entire body right into your mouth. that's where the concentrated flavours are packed in. awesome!
this is certainly something i will keep going back for. :) be warned though, these cute crabbies don't come cheap - a dish of 5 babies costs $15. you do the math.
ness's salmon miso soup came in a steaming hotpot and hit just the right spot on that cold, rainy evening. she'd been trying to tell me how good this dish is, and it's definitely everything she said and more. this is comfort food at its best. and it's full of healthy goodness too, with large pieces of salmon, tofu and assorted vegetables.
i didn't think i was gonna be full just like that, but... damn! i was actually about 80% stuffed by then. finally tucked into the beef tataki which was beautifully marbled. darn fat cows, they picked. each slice was succulent and wonderfully tender.
this was a thoroughly enjoyable dining experience with kickass food and awesome company. :) thanks babe, for showing me this lovely place! it will be my turn when we next meet, to show you the kazu experience! :)
feelin':
sleepy