it has been a whirlwind of events and headless-chickens this week, especially in the past 2 days leading up to mingster's departure for japan today. sal and i worked round the clock to create a hugeass scrapbook of photographs and memories for our fabulous babe to bring with her to the land of the rising sun. so she can't ever forget us. :)

my left arm has been aching since thursday, from buying and carrying materials while running all around town by myself. both my thighs are in tremendous pain from being over-stretched for two days while sitting and squatting on floors (my own floor and sal's floor). this is very bad especially when dealing with things like stairs. on friday morning, i thought my back was going to break from sitting on sal's floor for over 10 hours straight - bent over like a prawn from night till 9am the next day.

worked on it again on friday arvo after a quick nap, tried to get as much done as humanly possible before her farewell dinner and drinkies at night. friday night passed in a blur of food, fun and chatter till 4am. lots of pictures were snapped to be thrown into the last two pages of our labour-of-love scrapbook.

saturday morning, both sal and i were seriously dead to the world in our respective homes. i jumped awake saturday arvo and attacked the scrapbook again while sal had some work obligations. it was a race against time to get it all done before seeing mingster off at the airport in the evening.

6pm. a quick phone call from sal and we're both off to the airport, converging from different directions. she had all the party pictures from the night before and some extra stickers because i'd used up almost all my ribbons and pretty knick-knacks. to maximise time, i was sticking little heart-shaped stickers during the cab-ride to the airport.

upon arrival at terminal two, i rushed to starbucks to meet sal and we team-worked through the remaining pages. mission was accomplished just in time, just as we saw mingster walking towards us from about 20 metres away. :p

i have a gazillion pictures of the scrapbook and of mingster's farewell on friday night. will post them soon, when i unwind and recover my senses. not to mention all the backlog i always seem to chalk up. but i reckon i'll stop being so narky about posting my entries in order since i can never hope to catch up to real time anyway. :)

so here's our last photo at the airport with the most wonderful babe of all time (last one for now! more to come in the future for sure) and her good friend, shimin as well.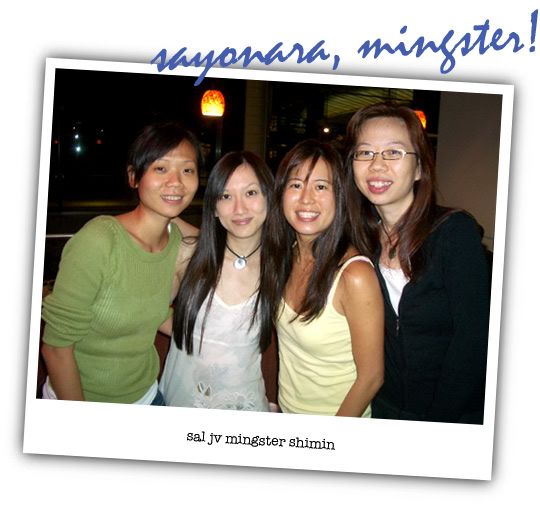 this bubbly, cheery, beautiful, sunshine-babe has been a big, big part of my life for the past few years - from blading at east coast, pigging out on food everywhere, heart-to-heart chats about everything in our lives, shopping or just hanging out anywhere, anytime. she was a constant, supportive friend whether in good times or in bad times. we even began our healthy lifestyles at about the same time. when she started blogging as well, we could constantly keep track of each other's lives. our friendship stayed tight even though i drifted away for a few months from the rest of the babes who were still partying hard (drinking, smoking, clubbing, pubbing and whatnots). it was easy to see who the true friends are. :)

please take care of yourself, babe! i'm so glad that a new chapter is beginning for you, in an exciting new land, no less! :) sal and i will definitely do our best to meet you in japan next year. things will never be the same here without you... but we're happy for you beyond anything else.

i'm gonna miss you very muchly... love you! :)

*MWAH*